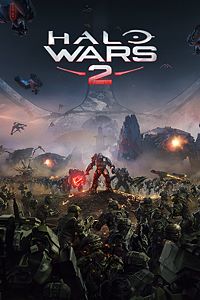 Halo Wars 2 - Pre-Order
Published by

Microsoft Studios

Price

On sale information

Sale information

Product distribution
In this bundle
Alternative editions
Description
Supports Xbox Play Anywhere: yours to play on both Xbox One and Windows 10 PC at no additional cost. Halo Wars 2 delivers real-time strategy at the speed of Halo combat. Get ready to lead Spartans, Warthogs and other classic Halo fighting forces in a brutal war against a terrifying new enemy on the biggest Halo battlefield ever. Your Halo Wars 2 pre-order includes the Halo Wars 2 – Digital Pre-order Bonus Pack for use in Halo 5: Guardians. To receive your pre-order bonus search for "Halo Wars 2 – Digital Pre-order Bonus Pack" on the Xbox Store and download from the details page. *Online multiplayer features require Xbox Live Gold membership (sold separately).
Available on
Capabilities
Multiplayer Online- 2 to 6 players
Co-op Online
Additional info
Published by
Microsoft Studios

Installation
Install on your home Xbox One console plus have access when you're connected to your Microsoft account.


Sign in to report this game to Microsoft