The four wretched smegheads reunite for a twelfth series.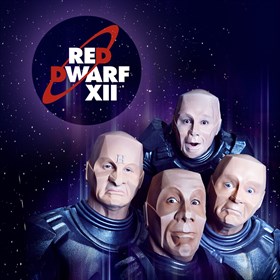 Red Dwarf returns for the twelfth series of the legendary comedy. For the very first time, the rest of the crew discover just how it feels to be Kryten when they're arrested by the Mechanoid Intergalactic Liberation Front. The Dwarfers come across a ship where criticism is illegal, and a space station where the crew have developed a cure for evil. When all the machines on Red Dwarf go on strike Rimmer and Kryten hold a Presidential election. Finally, Rimmer decides to leave Red Dwarf in search of a parallel universe where he isn't such a massive loser. Released by BBC Worldwide Ltd under exclusive licence from UKTV Media Limited in association with Grant Naylor Productions Ltd. Baby Cow Productions for Dave in association with Grant Naylor Productions. www.reddwarfondave.co.uk www.reddwarf.co.uk
Season 12, episode 1

,

The crew find a science centre where vile historical figures have been 'cured' of evil.

Season 12, episode 2

,

Lister, Cat and Rimmer are uploaded into mechanoid bodies and forced into slavery.
---
---
---
Genres

Networks

Director

Writer

Release date

12/10/2017

Duration

2

TV episodes

(56 min)

Subtitles

No subtitles

Audio

English

Supported devices

Purchase rights

When you buy a video, you can watch it now, or download the video to a compatible device and watch it later. Complete information about your viewing rights is in the Terms of Use.
---
---