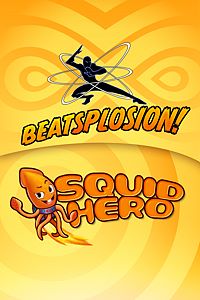 Kinect Bundle: Beats & Squids
Published by

Virtual Air Guitar Company

Price

On sale information

Product distribution
Description
Save money and get a double dose of Kinect fun, featuring beat ninjas and adorable squids! Beatsplosion: Move to the beat of the music, working up a sweat as you punch, dodge and jump your way through quarks and neutrinos. Daily use may result in getting seriously fit! Squid Hero: Embark on a cheery and colorful arcade adventure that challenges your accuracy, dexterity and agility while dodging obstacles and fighting epic giant robot bosses!
Available on
Capabilities
Multiplayer Local- 2 players
Co-op Local
Additional info
Published by
Virtual Air Guitar Company

Release date
2016-05-24T00:00:00.0000000Z
Installation
Install on your home Xbox One console plus have access when you're connected to your Microsoft account.


Sign in to report this game to Microsoft