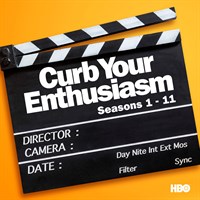 Description
Larry David has it all--so why does he seem intent on making a mess of his life? The "Seinfeld" co-creator portrays a comically over-the-top version of himself in this iconic Emmy® and Golden Globe®-winning comedy series that follows him at home, at work, and around town, as he lands himself in endless predicaments with both fictional and real-life personalities. Across 11 seasons, the sensational supporting cast includes Jeff Garlin (as manager Jeff Greene), Susie Essman (as Jeff's wife Susie), Cheryl Hines (as Larry's ex-wife Cheryl), and JB Smoove (as Larry's live-in friend Leon), along with Richard Lewis, Ted Danson (as Larry's friends), and a rotating cast of familiar guests.
Episodes
27. The Corpse-Sniffing Dog
29. Mary, Joseph and Larry
41. The Larry David Sandwich
53. The Ida Funkhouser Roadside Memorial
61. Funkhouser's Crazy Sister
80. Larry vs. Michael J. Fox
83. A Disturbance in the Kitchen
84. Running with the Bulls
85. Thank You for Your Service
86. The Accidental Text on Purpose
88. Never Wait For Seconds!
94. You're Not Going to Get Me to Say Anything Bad About Mickey
98. Elizabeth, Margaret and Phillip