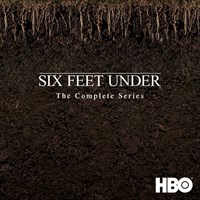 Description
When death is your business, what is your life? From Oscar(R)-winning screenwriter Alan Ball ('American Beauty') comes this award-winning HBO drama series that takes a darkly comic look at a dysfunctional L.A. family that runs a funeral business. With Peter Krause, Frances Conroy, Michael C. Hall, Lauren Ambrose and Rachel Griffiths.
Episodes
1. Six Feet Under (Pilot)
15. Out, Out Brief Candle
21. It's the Most Wonderful Time of the Year
24. The Liar and the Whore
34. Tears, Bones and Desire
45. Terror Starts at Home.
52. A Coat of White Primer
57. The Rainbow of Her Reasons
59. Singing for Our Lives
Additional information
Duration
63 episodes (2 days 9 h 10 min)