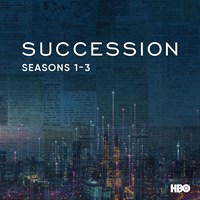 Description
Power, politics, money...it's all in the family in this provocative, bitingly funny drama series about a highly dysfunctional dynasty. With aging, uber-wealthy patriarch Logan Roy (Brian Cox), CEO of one of the world's largest media and entertainment conglomerates, considering retirement as he deals with health concerns, each of his four grown children follows a personal agenda that doesn't always sync with those of their siblings--or of their father. Over the course of three seasons, Logan changes his mind about stepping down, resulting in the bickering of his heirs. Ambushed by his rebellious son Kendall at the end of Season 2, Logan begins Season 3 in a perilous position, scrambling to secure familial, political, and financial alliances, as a bitter corporate battle threatens to turn into a family civil war. Jeremy Strong, Kieran Culkin, Sarah Snook and Alan Ruck costar.
Episodes
2. Sh*t Show at the F**k Factory
6. Which Side Are You On?
10. Nobody Is Even Missing
20. This Is Not for Tears
25. Retired Janitors of Idaho
Additional information
Duration
29 episodes (1 day 4 h 59 min)