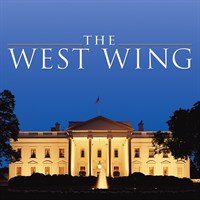 Description
The West Wing ventured where no other TV series had gone before: an extraordinarily intimate look at an American President and the inner workings of the White House. Experience all the crises, triumphs, lofty idealism and hard realities of the acclaimed series in this complete seven-season DVD set. Here, on 45 discs, are all 154 episodes of the series that won 26 Emmys, including 4 for Outstanding Drama Series. Hail to chief - and to the creators and stars of this ground-breaking series.
Episodes
2. Post Hoc, Ergo Propter Hoc
3. A Proportional Response
5. The Crackpots and These Women
12. "He Shall, from Time to Time…"
13. Take Out the Trash Day
14. Take This Sabbath Day
17. The White House Pro-Am
18. Six Meetings Before Lunch
19. Let Bartlet Be Bartlet
21. Lies, Damn Lies and Statistics
22. What Kind of Day Has It Been
23. In the Shadow of Two Gunmen - Part I
24. In the Shadow of Two Gunmen - Part II
27. And It's Surely to Their Credit
28. The Lame Duck Congress
33. The Leadership Breakfast
35. Bartlet's Third State of the Union
38. Somebody's Going to Emergency, Somebody's Going to Jail
39. The Stackhouse Filibuster
42. The Fall's Gonna Kill You
52. The Indians in the Lobby
61. The U.S. Poet Laureate
63. Enemies Foreign and Domestic
68. 20 Hours in America, Part 1
69. 20 Hours in America, Part 2
82. Inauguration, Part 2: Over There
87. Evidence of Things Not Seen
101. The Benign Prerogative
103. The Warfare of Genghis Khan
119. A Change Is Gonna Come
122. Faith Based Initiative