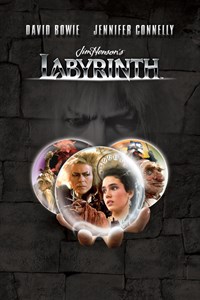 A teenager babysitting her little brother accidentally sends him to the land of the Goblin King, and she must get him back by midnight or he will be turned into a goblin.
Once you select Rent you'll have 14 days to start watching the film and 48 hours to finish it.
Available on
Xbox One
HoloLens
PC
Mobile device
Xbox 360
Description
Teenage Sarah is left to babysit her baby brother Toby and he will not stop crying. So Sarah tries to put the baby to sleep by reading him a story. When she accidentally conjures up the Goblin King from the fantasy, he steals the baby and takes him to his castle, which is in the middle of a labyrinth. Now Sarah must solve the labyrinth by midnight, or Toby will be turned into a goblin.
Additional information
Age rating
Genres
Family
Sci-Fi/Fantasy
Size
5.96 GB (1080p HD)
2.82 GB (720p HD)
2.12 GB (SD)
Size
5.96 GB (1080p HD)
2.82 GB (720p HD)
2.12 GB (SD)
| | |
| --- | --- |
| Windows | Windows 8, Windows 8.1, Windows 10 or later |
| Xbox | Xbox 360, Xbox One, Xbox One S, Xbox One X |
| Mobile | Windows Phone 8, Windows Phone 8.1, Windows 10 or later |
Portions of content provided by Tivo Corporation - © 2020 Tivo Corporation