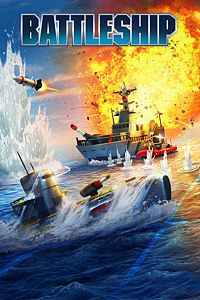 BATTLESHIP
Published by

Ubisoft

Price

On sale information

Product distribution
Screenshots
Enter your date of birth
Content not intended for all audiences. Please verify your age.
You must be old enough to view images and videos.
Description
With a modern, dynamic and interactive 3D board, BATTLESHIP brings the classic franchise to a new level for a memorable experience. Deploy your fleet and shoot at your opponent's grid to find and destroy enemy ships before yours are sunk. Enjoy the game you know and love with the Classic mode or get more tactical in a brand new way to play with the "Clash at Sea!" mode. Play with your friend locally or online, or stand against the Artificial Intelligence of the game.
Available on
Capabilities
Multiplayer Online- 2 players
Multiplayer Local- 2 players
Additional info
Release date
2016-08-02T00:00:00.0000000Z
Approximate download size
1.57 GB
Installation
Install on your home Xbox One console plus have access when you're connected to your Microsoft account.


Sign in to report this game to Microsoft