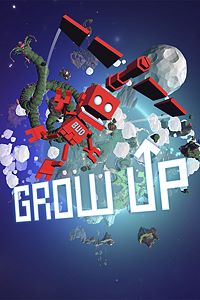 GROW UP
Published by

Ubisoft

Price

On sale information

Product distribution
Screenshots
Enter your date of birth
Content not intended for all audiences. Please verify your age.
You must be old enough to view images and videos.
Description
While out exploring the galaxy with MOM, BUD's parental spaceship, she goes to pieces. Literally – MOM's all over the place. The positioning of that moon was inconsiderate. Now her ship parts are scattered far and wide across an entire alien planet so rich in flora and fauna it would make even the most jaded galactic gardener's head spin. It's up to BUD to collect all her parts and get them back to the moon. • Join this adorable wobbly robot on his fantastical acroBUDic adventure. • Collect MOM's ship parts with the help of new friend POD. She likes planets. A lot. • Explore an entire alien planet filled with excitement and wonder. And a Flungus. • Walking's overrated - tuck BUD into Ball mode to boost, bounce and roll around the planet. • Take to the air and soar between floating islands like a big metal bird with the Power Glider. • Exercise those green fingers and overcome obstacles by spawning any plant you've found with the Floradex 3000. • Ride giant Starplants into the sky
Additional info
Release date
2016-08-16T00:00:00.0000000Z
Approximate download size
843.53 MB
Installation
Install on your home Xbox One console plus have access when you're connected to your Microsoft account.


Sign in to report this game to Microsoft