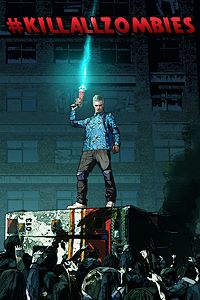 #KILLALLZOMBIES
Published by

Digerati

Price

On sale information

Product distribution
Screenshots
Enter your date of birth
Content not intended for all audiences. Please verify your age.
You must be old enough to view images and videos.
Description
In the distant future, #KILLALLZOMBIES thrusts civilians into a sport of survival, where a ravenous zombie population is unleashed in the name of sports entertainment. With the potential of a collective horde of over 1,000 zombies, spectators vote upon how many and what kind of zombies or obstacles they want to uncage to make survival easier or harder for you to accomplish. Features: • Hordes of zombies to fight on interactive changing arena • Three modes to play: Survival, Coop and Defend the Vault • Live stream interactions enabling spectators to affect gameplay while watching the broadcast • Multiple weapons and ammo types • XP and levelling up system • Powerful perks
Available on
Capabilities
Co-op Local
Multiplayer Local- 2 players
Additional info
Release date
2016-08-10T00:00:00.0000000Z
Approximate download size
435.24 MB
Installation
Install on your home Xbox One console plus have access when you're connected to your Microsoft account.


Sign in to report this game to Microsoft