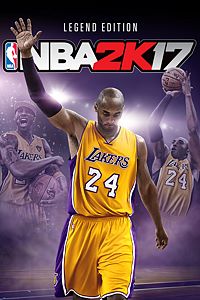 NBA 2K17 Legend Edition
Published by

2K

Price

On sale information

Product distribution
In this bundle
Alternative editions
Screenshots
Enter your date of birth
Content not intended for all audiences. Please verify your age.
You must be old enough to view images and videos.
Description
Following the record-breaking launch of NBA 2K16, the NBA 2K franchise continues to stake its claim as the most authentic sports video game with NBA 2K17. As the franchise that "all sports video games should aspire to be" (GamesRadar), NBA 2K17 will take the game to new heights and continue to blur the lines between video game and reality. The NBA 2K17 Legend Edition includes- Digital Content: • 30,000 Virtual Currency • MyTEAM Bundle + (including 3 packs with guaranteed Kobe Free Agent card) • 2K Kobe XI shoe • Kobe #8 Mitchell & Ness Jersey • Kobe hoodie • Kobe USA Basketball Jersey • '92 Dream Team playable in Quick Game
Available on
Capabilities
Multiplayer Online- 2 to 10 players
Multiplayer Local- 4 players
Co-op Local
Co-op Online
Additional info
Release date
2016-09-20T00:00:00.0000000Z
In-app purchases
SG$2.60 – SG$19.90
Installation
Install on your home Xbox One console plus have access when you're connected to your Microsoft account.


Sign in to report this game to Microsoft