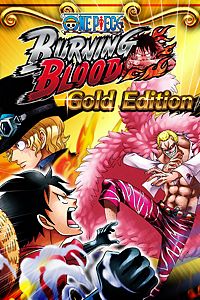 ONE PIECE BURNING BLOOD - Gold Edition
Published by

BANDAI NAMCO Entertainment

Price

On sale information

Product distribution
Screenshots
Enter your date of birth
Content not intended for all audiences. Please verify your age.
You must be old enough to view images and videos.
Description
This amazing ONE PIECE BURNING BLOOD - Gold Edition includes the game along with all the content from the Wanted Pack, Wanted Pack 2! • 4 new playable characters • 6 alternate versions of playable characters • 14 costumes • 5 customized HUDs • + the exclusive Platinum Luffy costume One Piece Burning Blood is a dynamic and colourful new fighting game featuring the world's most famous pirate: Monkey D. Luffy. GEAR UP FOR THE FIGHT!
Available on
Capabilities
Multiplayer Online- 2 players
Multiplayer Local- 2 players
Additional info
Published by
BANDAI NAMCO Entertainment

Release date
2016-08-04T00:00:00.0000000Z
In-app purchases
SG$1.30 – SG$34.90
Installation
Install on your home Xbox One console plus have access when you're connected to your Microsoft account.


Sign in to report this game to Microsoft