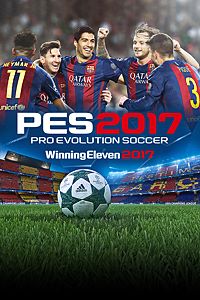 Pro Evolution Soccer 2017
Published by

Konami Digital Entertainment

Price

On sale information

Product distribution
Screenshots
Enter your date of birth
Content not intended for all audiences. Please verify your age.
You must be old enough to view images and videos.
Description
The award winning series returns taking the famed gameplay to a new level by achieving interactive reality in both control and new authentic visuals. Control Reality in Pro Evolution Soccer 2017 with these new features: • Real Touch – Players control the ball in unique ways based on where and how you control them • Authentic Visuals – Player models, lighting, crowds, pitch and stadiums totally revamped • Adaptive AI – For the first time in a football game, the AI will learn how you play and adapt accordingly • Natural Player Movement – Hundreds of new animations have been added to bring the players to life • Goalkeepers – Keepers see a great jump in their quality, through added motions and animations • myClub – Buy the players you want with the new myClub Scout/Auction feature
Capabilities
Multiplayer Local- 8 players
Co-op Local
Multiplayer Online- 1 to 22 players
Co-op Online
Additional info
Published by
Konami Digital Entertainment

Installation
Install on your home Xbox One console plus have access when you're connected to your Microsoft account.


Sign in to report this game to Microsoft