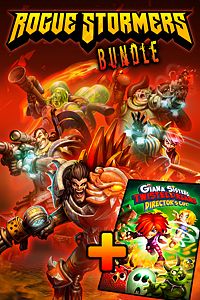 Rogue Stormers & Giana Sisters Bundle
Published by

Black Forest Games

Price

On sale information

Product distribution
Screenshots
Enter your date of birth
Content not intended for all audiences. Please verify your age.
You must be old enough to view images and videos.
Description
The Giana Sisters and Rogue Stormers Bundle contains discounted copies of Rogue Stormers and Giana Sisters: Twisted Dreams.
Available on
Capabilities
Co-op Local
Multiplayer Local- 4 players
Multiplayer Online- 1 to 4 players
Co-op Online
Additional info
Published by
Black Forest Games

Release date
2016-10-07T00:00:00.0000000Z
Installation
Install on your home Xbox One console plus have access when you're connected to your Microsoft account.


Sign in to report this game to Microsoft