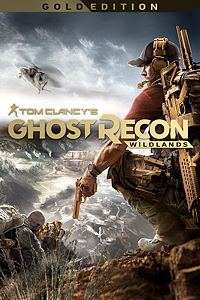 Tom Clancy's Ghost Recon®Wildlands - Gold Edition
Published by

Ubisoft

Price

On sale information

Sale information

Product distribution
Screenshots
Enter your date of birth
Content not intended for all audiences. Please verify your age.
You must be old enough to view images and videos.
Description
Get the ultimate Ghost Recon Experience with the Gold Edition, which includes game and season pass giving you access to two major expansions as well as all Deluxe Edition content. Tom Clancy's Ghost Recon® Wildlands is the first military shooter in a massive and responsive open world that you can play entirely solo or in four-player co-op. TAKE DOWN THE CARTEL The Santa Blanca cartel has turned the country into a narco-state. As a Ghost, you must stop the cartel by any means necessary. BECOME A GHOST Create and fully customize your Ghost, weapons, and gear. Enjoy a total freedom of playstyle. Lead your team and take down the cartel, either solo or with up to three friends. EXPLORE BOLIVIA Discover the stunning diverse landscapes of the Wildlands both on and off road, in the air, on land, and at sea with over 60 different vehicles. Pre-order to receive a bonus mission: Explore the high mountains of Bolivia to break the alliance between Santa Blanca and the Peruvian Cartels. All digital content included in this bundle will be available to download on 07/03/2017. To download your content, navigate to My Games and Apps, select Tom Clancy's : Ghost Recon Wildlands, Menu, Manage Game. For a limited time, get unique digital content: Assassin's Creed Chronicles: China. Assassin's Creed Chronicles: China can be downloaded immediately from its product page on the marketplace after proceeding to check out.
Additional info
Installation
Install on your home Xbox One console plus have access when you're connected to your Microsoft account.


Sign in to report this game to Microsoft