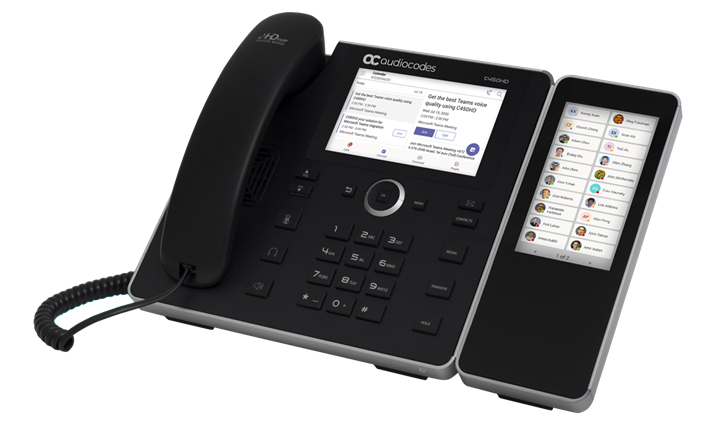 C450HD for Microsoft Teams with Expansion Module
AudioCodes
Monthly financing options available in shopping cart with qualifying order. Terms and conditions may applyLearn more
Select the Overview or Tech Specs tab button to view related content below.
Feature rich
The C450HD IP Phone is a feature-rich, high-end executive business phone loaded with the innovative technology demanded by today's business leaders in our dynamic global economy. Its large, high resolution 5" color touch screen, combines with stunning sound quality and robust security mechanisms to place ease-of-use and high productivity at center stage. This phone is available as part of AudioCodes' Managed IP Phones solution, which defines the IP Phone as an IT-managed entity and delivers complete lifecycle management of end-user desktop devices. Through this solution, voice network administrators can deploy and monitor AudioCodes IP phones, and identify and remedy any issues that may arise.
Flexible & familiar
For those executives already working with Microsoft Teams or Skype for Business, the C450HD delivers a familiar and intuitive use experience. Its innovative technology and long feature list ensure that business leaders can focus on what really matters, without having to worry about mastering new hardware.
Expandable
The color touch expansion module display is specially designed for the C450HD IP Phone, further enhancing the Microsoft Teams or Skype for Business experience. The Expansion Module add-on offers clear presence indicators of your favorite contacts on a dedicated screen, allowing the device's main screen to be used for meeting management. During meetings, clear and intuitive touch screen buttons make it possible to quickly invite additional people or to consult with colleagues who are not in the meeting.