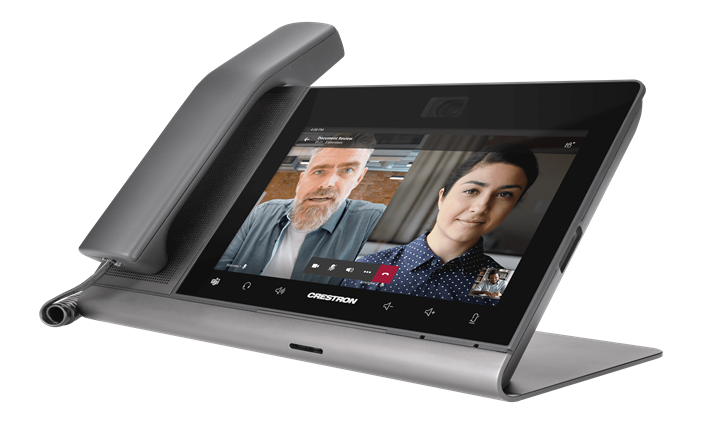 Flex 8 inch video desk phone with handset
Crestron
Monthly financing options available in shopping cart with qualifying order. Terms and conditions may applyLearn more
Select the Overview or Tech Specs tab button to view related content below.
A native Teams experience
Providing a native Teams experience, with simple operation and one-touch meeting joins through a feature-rich touch screen. Onboard calendar, corporate directory access, and hot-desking are provided. Work with a Microsoft Teams account, connecting to an enterprise or SMB network implementing a cloud based Teams deployment.
Intuitive interface
A large HD touch screen makes the desk phone easy to use. Capacitive buttons provide the essential controls for managing a call in progress, muting or adjusting volume, switching to hands-free or headset mode. A dedicated Teams button launches the home screen or calls app. The intuitive touch screen UI employs a look and layout similar to Microsoft Teams and Office 365, so users can move effortlessly between using a phone and personal computer at their desk and other Teams based Crestron UC conferencing solutions.
High-definition audio conferencing
Crestron VoIP desk phones facilitate conversations with highly intelligible voice clarity, whether speaking privately on a handset, headset, or conferencing using the hands-free speakerphone function. High-performance AEC technology achieves transparent full-duplex performance free of distracting echo or noise. Wideband audio codec support allows for full-spectrum, bidirectional voice communication. Handset models are hearing aid compatible to ensure an optimal experience for individuals with hearing impairment.
High-definition video conferencing
The built-in camera with a wide-angle 96° diagonal field of view, full HD 1080p video resolution, 2 megapixel CMOS sensor, and advanced video processing ensures a clear video image free from light or noise artifacts.