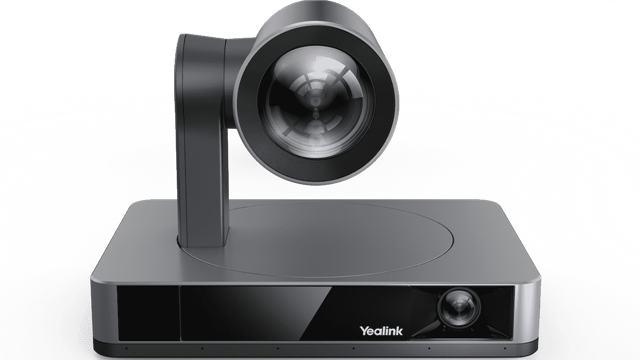 UVC86 Camera
Yealink
Monthly financing options available in shopping cart with qualifying order. Terms and conditions may applyLearn more
Select the Overview or Tech Specs tab button to view related content below.
Dual 4K camera clearly showing every participant
The UVC86 is a built-in dual-eye 4K camera with a panoramic camera to detect participants in real-time and a PTZ camera to capture the best picture of participants, supporting a 4K video stream and capturing every detail of the meeting.
Precise and smooth tracking experience
The UVC86 camera supports auto framing, speaker tracking and presenter tracking features. The dual-eye design solution greatly ensures the stability and smoothness of the tracking effect.
12x Optical zoom, 90° wide FoV
With 12X optical zoom and 90° field of view, the UVC86 can easily cover a medium or large meeting space. Everyone sitting in the meeting room can be clearly seen by the remote party.
Multiple installation options
The complete mounting kits allow you to either put the UVC86 on the conference table, or mount it on the top of TV, on the wall, on the ceiling, onto a TV stand or a tripod with great flexibility according to your needs.