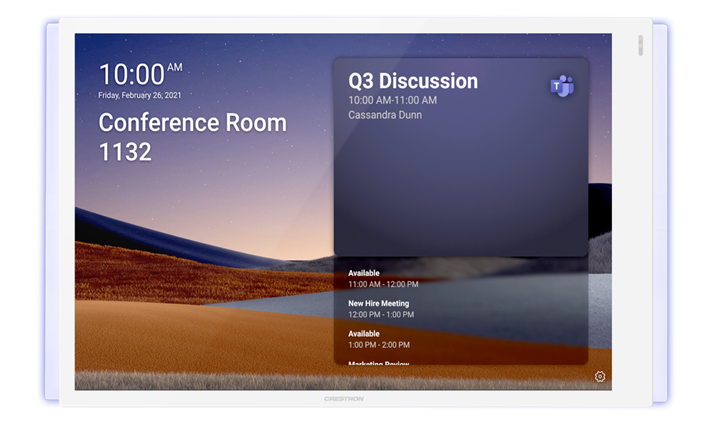 10.1 Inch room scheduling touch screen white
Crestron
Monthly financing options available in shopping cart with qualifying order. Terms and conditions may applyLearn more
Select the Overview or Tech Specs tab button to view related content below.
Teams panels
The native Microsoft Teams Panels scheduling application helps to maximize productivity and manage usage for meeting spaces via Teams. The touch screen can be configured to use the Teams scheduling calendar, allowing users to book meetings through their Teams account. If desired, the room can be reserved on the spot for an ad hoc meeting.
Power over Ethernet
PoE (Power over Ethernet) eliminates the need for a local power supply or any dedicated power wiring. Crestron PoE switches offer a total networking solution with built‑in PoE for multiple touch screens. A PoE Injector is also available to support a single touch screen.
Status indicator options
The TSS-1070 provides dual high-speed USB 2.0 ports for connecting Crestron room scheduling accessories to the touch screen that enhance an enterprise room scheduling solution. The included TSW-1070-LB series lights bar provides a 180° visual indication of a room's availability status, illuminating green if the room is available and red when reserved, with options for custom color mixing and programming.