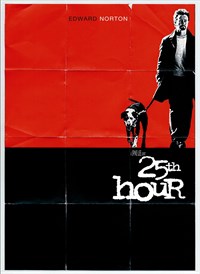 Cornered by the DEA, convicted New York drug dealer Montgomery Brogan (Norton) reevaluates his life in the 24 remaining hours before facing a seven-year jail term.
Once you select Rent you'll have 14 days to start watching the movie and 48 hours to finish it.
Available on
Xbox One
HoloLens
PC
Mobile device
Xbox 360
Description
Edward Norton heads an amazing all-star cast in the critically acclaimed Spike Lee film 25th HOUR. In 24 short hours Monty Brogan (Norton) goes to prison for seven long years. Once a king of Manhattan, Monty is about to say good-bye to the life he knew -- a life that opened doors to New York's swankest clubs but also alienated him from the people closest to him. In his last day on the outside, Monty tries to reconnect with his father (Brian Cox), and gets together with two old friends, Jacob (Philip Seymour Hoffman) and Slaughtery (Barry Pepper). And then there's his girlfriend, Naturelle (Rosario Dawson), who might (or might not) have been the one who tipped off the cops. Monty's not sure of much these days, but with time running out, there are choices to be made as he struggles to redeem himself in the 25th hour.
Additional information
Studio
Touchstone Pictures
Age rating
Size
8.01 GB (1080p HD)
3.78 GB (720p HD)
2.84 GB (SD)
Size
8.01 GB (1080p HD)
3.78 GB (720p HD)
2.84 GB (SD)
| | |
| --- | --- |
| Windows | Windows 8, Windows 8.1, Windows 10 or later |
| Xbox | Xbox 360, Xbox One, Xbox One S, Xbox One X |
| Mobile | Windows Phone 8, Windows Phone 8.1, Windows 10 or later |

Tomatometer®
Audience
Time Out

2/9/2006

---

While 25th Hour has a several arresting characters struggling with credible problems, regrettably Monty isn't one of them.

Observer

1/30/2003 by Andrew Sarris

---

I still think that Mr. Lee has come closer than he ever has before to making the great film about New York City that David Thomson hoped from him in a favorable mini-bio in The New Biographical Dictionary of Film.

Chicago Reader

1/18/2003 by Jonathan Rosenbaum

---

Lee and his cast are so adept at getting us acquainted with Monty and these other people that we wind up feeling like we've known them for years.

TIME Magazine

1/13/2003 by Richard Corliss

---

Pretty lethargic stuff.

Washington Post

1/10/2003 by Desson Thomson

---

It's the usual undisciplined, overextended Spike symphony: more fun than it is any good.

Washington Post

1/10/2003 by Ann Hornaday

---

Lee has created that rarity in filmmaking: a movie we need, right now.

Toronto Star

1/10/2003 by Peter Howell

---

25th Hour has a lot of problems, but chief amongst them is the persistent feeling that Lee is just treading water, by trading on past glories and larding in celebrity appearances in the hope of actually selling a few tickets for a change.

Seattle Times

1/10/2003 by Moira MacDonald

---

An intriguing misfire that nonetheless holds our interest, keeping us wondering about the movie that might have been.

San Francisco Chronicle

1/10/2003 by Mick LaSalle

---

The first great 21st century movie about a 21st century subject.

Orlando Sentinel

1/10/2003 by Roger Moore

---

Lee overloads a featherweight story with pretentious subtext and showy technique.

Miami Herald

1/10/2003 by Rene Rodriguez

---

The movie hums with a vibrant energy, which is powered by the terrific ensemble cast and the glowing cinematography by Rodrigo Prieto.

Houston Chronicle

1/10/2003 by Eric Harrison

---

Well-acted but badly miscalculated.

Boston Globe

1/10/2003 by Wesley Morris

---

The film doesn't reach a climax per se. But it's not conventionally inert, either.

Detroit Free Press

1/10/2003 by Terry Lawson

---

If there was ever a filmmaker in need of someone who could tell him where and when to stop, what to leave in and what to take out, it would be Spike Lee.

Globe and Mail

1/10/2003 by Rick Groen

---

25th Hour should have stopped at 24.

Chicago Sun-Times

1/10/2003 by Roger Ebert

---

The film is unusual for not having a plot or a payoff.

San Jose Mercury News

1/9/2003 by Glenn Lovell

---

It's a long, complex, deeply flawed work -- and also quite possibly Lee's most ambitious and accusatory movie since Do the Right Thing in 1989.

Philadelphia Inquirer

1/9/2003 by Steven Rea

---

It could have been more taut, could have been harder, but 25th Hour still resonates with power and poetry.

Dallas Morning News

1/9/2003 by Chris Vognar

---

[Lee's] movies still have plenty on their mind. And they're not afraid to talk about it.
No one's rated or reviewed this product yet.
Portions of content provided by Tivo Corporation - © 2019 Tivo Corporation