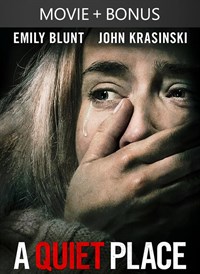 Original price was $13.99, current price $7.99
Original price was $13.99, current price $7.99

Tomatometer®
Audience
Christian Science Monitor

4/18/2018 by Peter Rainer

At a brisk 90 minutes, it's one of the most inventive and beautifully crafted and acted horror movies I've seen in a very long time, and I think the main reason for its power is the family crisis at its core.

The New Republic

4/11/2018 by Josephine Livingstone

This is a movie about the sound of fear, but it gives us a great deal more to listen to.

Slate

4/9/2018 by Sam Adams

But there are moments when the movie takes us firmly by the hand and escorts us down a darkened path, and they lead to one of the most profound of communal pleasures: the sound of a movie audience screaming as one.

ReelViews

4/8/2018 by James Berardinelli

A Quiet Place is a superb exercise in understated terror that puts to shame "horror" films that rely on jump scares and cheap theatrics.

The Atlantic

4/7/2018 by David Sims

A Quiet Place is an undoubtedly taxing affair for the nerves; fortunately, it's also a deeply affecting one.

New Yorker

4/6/2018 by Anthony Lane

Simmonds, who is herself deaf, & who starred in Wonderstruck, last year, makes a greater impact still as the indomitable Regan, with her secretive smile. Her hearing aid is vital to the plot, and, indeed, the whole saga is shaped around its sound design.

Globe and Mail

4/6/2018 by Johanna Schneller

You're so tense you're almost nauseous, but it's fun - that's the place this smart new thriller will put you in.

Detroit News

4/6/2018 by Adam Graham

"A Quiet Place" is a bold experiment in fear with a triumphant payoff. It will chill you to the bone, and the quieter it gets, the more noise it makes.

Time Out

4/6/2018 by Ian Freer

Like Aliens retooled as a militant librarian's fantasy, John Krasinski's relentless shocker thrives on a nifty premise.

Chicago Sun-Times

4/5/2018 by Richard Roeper

This is the kind of film that delivers on about 75 percent of its promise and has you looking forward to the time when the director hits something all the way out of the park.

Wall Street Journal

4/5/2018 by Joe Morgenstern

It may not make the masterpiece cut, but this taut horror thriller is enormously entertaining, because it's organized around a terrific idea-the necessity of absolute silence.

NPR

4/5/2018 by Scott Tobias

Krasinski lands on a loud-quiet-loud formula akin to '90s alternative rock: When the chorus kicks in, the jump-scares really pop.

Toronto Star

4/5/2018 by Peter Howell

It makes you want to believe in it, and that's no small achievement. It will also make you and your fellow moviegoers shut right up, which is even more impressive.

Los Angeles Times

4/5/2018 by Justin Chang

I can't recall the last time I found myself caring as intently for the characters in a horror picture as I did for the family in "A Quiet Place"...

New York Post

4/5/2018 by Johnny Oleksinski

"A Quiet Place" is a jalapeño popper of a movie - fast, filling and punchy - and a likable throwback to the films of M. Night Shyamalan. The good ones, anyway.

Arizona Republic

4/5/2018 by Bill Goodykoontz

Krasinski's film is also as much or more about a family in crisis, making it a powerful ride that never forgets its B-movie roots (that's a good thing).

Washington Post

4/5/2018 by Ann Hornaday

A creeping, increasingly queasy sense of dread pervades "A Quiet Place," John Krasinski's nervy thriller that marks a notable addition to the recent spate of smart, timely genre pictures.

Chicago Tribune

4/5/2018 by Michael Phillips

Working from a script he wrote with Bryan Woods and Scott Beck, director Krasinski exhibits a sure sense of what will hold the audience, moment to moment.

TIME Magazine

4/5/2018 by Stephanie Zacharek

Krasinski has made one of the most poetic horror movies of recent years. Its sound design alone is glorious, locating the infinite gradations in that thing we so casually call silence.

St. Louis Post-Dispatch

4/5/2018 by Calvin Wilson

If you're looking for a film that will keep you thrillingly off-balance, this is the place.
Showing 1-10 out of 2 reviews
Review title of XLilOneeX

Watch this!!!

Has you on the edge of your seat 10/10

0 out of 0 people found this helpful.
Review title of KMSSELLOUT

hi

Jim from the office?

1 out of 9 people found this helpful.