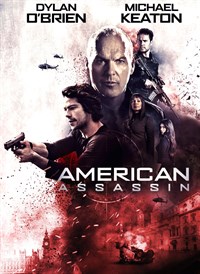 AMERICAN ASSASSIN follows CIA black ops recruit Mitch Rapp and Cold War veteran Stan Hurley as the pair is enlisted to stop a mysterious operative intent on settling a personal and profes...
Bundles containing this item
Available on
Xbox One
HoloLens
PC
Mobile device
Xbox 360
Description
AMERICAN ASSASSIN follows the rise of Mitch Rapp (Dylan O'Brien), a CIA black ops recruit under the instruction of Cold War veteran Stan Hurley (Michael Keaton). The pair is then enlisted by CIA Deputy Director Irene Kennedy (Sanaa Lathan) to investigate a wave of apparently random attacks on both military and civilian targets. Together the three discover a pattern in the violence leading them to a joint mission with a lethal Turkish agent (Shiva Negar) to stop a mysterious operative (Taylor Kitsch) intent on starting a World War in the Middle East.
Additional information
Age rating
Writers
Vince Flynn
Stephen Schiff
Michael Finch
Edward Zwick
Marshall Herskovitz
Writers
Vince Flynn
Stephen Schiff
Michael Finch
Edward Zwick
Marshall Herskovitz
Size
6.38 GB (1080p HD)
3.37 GB (720p HD)
1.89 GB (SD)
Size
6.38 GB (1080p HD)
3.37 GB (720p HD)
1.89 GB (SD)
| | |
| --- | --- |
| Windows | Windows 8, Windows 8.1, Windows 10 or later |
| Xbox | Xbox 360, Xbox One, Xbox One S, Xbox One X |
| Mobile | Windows Phone 8, Windows Phone 8.1, Windows 10 or later |

Tomatometer®
Audience
ReelViews

9/17/2017 by James Berardinelli

---

American Assassin is as generic an espionage thriller as you're likely to find.

RogerEbert.com

9/16/2017 by Matt Zoller Seitz

---

American Assassin is not what it pretends to be.

indieWire

9/15/2017 by Jamie Righetti

---

Still, passive audiences seeking pure escapism will find the bare minimum of fast action and ass-kicking mandated by the movie's formula.

Chicago Sun-Times

9/15/2017 by Richard Roeper

---

Sorry, but no sale.

San Diego Reader

9/15/2017 by Matthew Lickona

---

There's plenty of talk about American Sins in American Assassin, but none of it changes the fact that the bad guys want to do bad things and must be stopped, so there really isn't much point to all that chatter.

Seattle Times

9/15/2017 by Soren Andersen

---

[Dylan] O'Brien is grimly focused as Rapp, but there isn't a lot of electricity in his performance. He gets the job done, but he's no Matt Damon or Daniel Craig. Their spy-guy shoes remain unfilled.

Rolling Stone

9/15/2017 by Peter Travers

---

Even when logic goes up in flames, Michael Cuesta's thriller speeds ahead like a heat-seeking missile. Michael Keaton and new star Dylan O'Brien make action fireworks seem fresh again.

Time Out

9/15/2017 by Anna Smith

---

Mitch seems not just hot-headed but borderline racist, and neither trait is addressed in a satisfying way.

Globe and Mail

9/15/2017 by Kate Taylor

---

American Assassin offers you two competing philosophies that are equally unappetizing: cold-hearted, government-sanctioned professional killing or hot-blooded vigilante professional killing.

Detroit News

9/15/2017 by Adam Graham

---

"American Assassin" is bogged down by its contrived, empty-headed script (credited to four screenwriters and less than the sum of its parts) and its macho chest beating.

New York Post

9/14/2017 by Johnny Oleksinski

---

The casting of O'Brien, known mostly for the "Teen Wolf" TV series, came out of left field, but it was ultimately a smart move. He's young, hip and charmingly introverted.

Toronto Star

9/14/2017 by Peter Howell

---

So generic is this film, drawn from the vast pulp output of thriller scribbler Vince Flynn, it offers a glimpse into a dazzling future when robots begin making movies.

Chicago Reader

9/14/2017 by Andrea Gronvall

---

Somewhere along the way Michael Cuesta morphed from a creator of thoughtful indie dramas... into an action director (Showtime's Homeland); if he ever wants to tackle a James Bond movie, this nonstop spy thriller should serve as his audition.

Los Angeles Times

9/14/2017 by Kenneth Turan

---

It demonstrates that even Jason Bourne lite is better than no Bourne at all, if you're in the mood.

CNN.com

9/14/2017 by Brian Lowry

---

[American Assassin] plays like "The Bourne Identity for Dummies," a bland wannabe with a threadbare plot that -- the ample violence notwithstanding -- mostly misses the mark.

Minneapolis Star Tribune

9/14/2017 by Colin Covert

---

The film is an entertaining introduction to Rapp, whose final scene implies that he has a lot more retaliation to inflict. He could become a brand-name mainstay of the American superspy market for decades to come.

Chicago Tribune

9/14/2017 by Michael Phillips

---

It's not a technical shambles; the movie takes care of an action audience's basic needs. But it's one of those not-bad experiences I ended up resisting to its core.

AV Club

9/14/2017 by Katie Rife

---

By substituting macho posturing for real personality, American Assassin's franchise prospects appear as dim as the employment prospects for Middle Eastern actors who don't want to play terrorists.

New York Times

9/14/2017 by A.O. Scott

---

Decent fun, in the leathery, businesslike, self-satisfied manner of this kind of movie, which soothes the hurt places in the male ego with sentiment strategically disguised as toughness.

Arizona Republic

9/14/2017 by Randy Cordova

---

Sometimes it strives to be a character-driven thriller in the Jason Bourne mold. In other moments, it goes for over-the-top action and violence. But it's never very exciting, even with car chases, explosions and gunplay.
No one's rated or reviewed this product yet.
Portions of content provided by Tivo Corporation - © 2019 Tivo Corporation