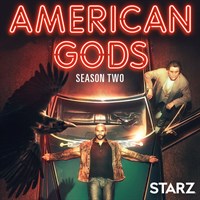 A drama series based on Neil Gaiman's novel of the same name. American Gods pits Old Gods against New Gods, with the ancient mythological ones fearing irrelevance as their believers die off or are seduced by the money, technology, and celebrity offered by the younger deities.
Available on
Xbox One
HoloLens
PC
Mobile device
Xbox 360
Description
A recently released ex-convict named Shadow meets a mysterious man who calls himself "Wednesday" and who knows more than he first seems to about Shadow's life and past.
Episodes
House on The Rock
Season 2, Episode 1 TV-MA CC HD CC SD
Following the epic showdown at Easter's party, Mr. Wednesday continues his quest to pitch the case for war to the Old Gods with Shadow, Laura and Mad Sweeney in tow. Meanwhile, Mr. World plans revenge and Technical Boy goes on the hunt for Media. First stop — the House on the Rock, where Shadow is taken "backstage."
The Beguiling Man
Season 2, Episode 2 TV-MA CC HD CC SD
Promising vengeance for the death of a beloved old god, Mr.  Wednesday begins preparation for a great battle. Meanwhile Laura and Mad Sweeney chase Shadow's diminishing light after his disappears. The Jinn and Salim set out to retrieve the Gungnir spear, and Shadow encounters an associate of Mr. World.
Muninn
Season 2, Episode 3 TV-MA CC HD CC SD
As he is tracked by Mr. World, Shadow makes his way to Cairo, thanks to a ride from Sam Black Crow. Mr. Wednesday slyly gains Laura's help in forging an alliance with a powerful god. Mr. World introduces Technical Boy to New Media and assigns them a very important task.
4. The Greatest Story Ever Told
The Greatest Story Ever Told
Season 2, Episode 4 TV-MA CC HD CC SD
While Shadow and Mr. Wednesday take a secret meeting in St. Louis, Bilquis arrives at the funeral home in Cairo, where she engages in a debate with Mr. Nancy and Mr. Ibis. Laura rejoins Mad Sweeney, and Tech Boy pays a visit to his first worshipper.
The Ways of The Dead
Season 2, Episode 5 TV-MA CC HD CC SD
Steeped in Cairo's history, Shadow learns the ways of the dead with the help of Mr. Ibis and Mr. Nancy. In New Orleans, Mad Sweeney introduces Laura to old friends who share their world of voodoo healing. Mr. Wednesday embarks on a road trip with Salim and the Jinn, and they have a challenging discussion about faith. Bilquis discovers an opportunity to draw new worshippers that might give her the power to break free of Mr. World.
Donar The Great
Season 2, Episode 6 TV-MA CC HD CC SD
Shadow and Mr. Wednesday seek out Dvalin to repair the Gungnir spear. But before the dwarf is able to etch the runes of war, he requires a powerful artifact in exchange. On the journey, Wednesday tells Shadow the story of Donar the Great. Meanwhile, Mr. World and New Media harness the power of her worshippers to prepare for the coming storm.
Treasure of The Sun
Season 2, Episode 7 TV-MA CC HD CC SD
In Cairo, Mr. Wednesday entrusts Shadow with the Gungnir spear. Mad Sweeney, plagued by the cries of Banshees, recalls his journey through the ages as he awaits his promised battle. Once again, he warns Shadow about Wednesday. Meanwhile, Laura receives sage advice from Mama-Ji, and Bilquis finds an audience.
Moon Shadow
Season 2, Episode 8 TV-MA CC HD CC SD
In the aftermath of Sweeney's death, Wednesday has disappeared, and Shadow is tormented by the night's events. Those that remain witness the power of New Media as she is unleashed, and the nation is enveloped in a state of panic brought on by Mr. World, who cunningly illustrates the power of fear and belief. It's all a game of chess, after all.
Additional information
Age rating
Duration
8 episodes (7 h 6 min)
Duration
8 episodes (7 h 6 min)
| | |
| --- | --- |
| Windows | Windows 8, Windows 8.1, Windows 10 or later |
| Xbox | Xbox 360, Xbox One, Xbox One S, Xbox One X |
| Mobile | Windows Phone 8, Windows Phone 8.1, Windows 10 or later |
Ratings and reviews
No one's rated or reviewed this product yet.
Thanks. Your review will post soon.
There was an error posting your review. Please try again later.
Portions of content provided by Tivo Corporation - © 2019 Tivo Corporation