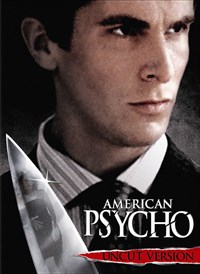 Tomatometer®
Audience
85 %
303,772 user reviews
Chicago Reader

3/28/2011 by Lisa Alspector

The slick satire cleverly equates materialism, narcissism, misogyny, and classism with homicide, but you may laugh so loud at the protagonist that you won't be able to hear yourself laughing with him.

Washington Post

3/28/2011 by Desson Thomson

It's hard to summon up enthusiasm for a performance so rooted in bloody banality. I mean, as Patrick, Bale's most emotionally pressing dilemma is: Chainsaw or butcher knife?

Slate

3/28/2011 by David Edelstein

American Psycho is nearly perfect for what it is, but before we go on, we should ask what that actually amounts to. Can something with so rigid a thesis be a real work of art?

TIME Magazine

3/28/2011 by Richard Corliss

It needs to be seen and appreciated, like a serpent in a glass cage.

Variety

5/30/2008 by Dennis Harvey

Harron's Psycho reps an impressive reclaiming of dubious material.

Newsweek

3/31/2008 by David Ansen

Conceptually, this savage cartoon ends up as trapped in surfaces as its shallow antihero: it's all dressed up with nowhere to go.

Time Out

2/9/2006

The film makes wonderfully unsettling entertainment; crucially -- and gloriously -- Bale nails Bateman with a sublimely dead-eyed and deadpan performance.

New York Magazine/Vulture

8/7/2004 by Peter Rainer

Clearly, Harron is sold on the Bateman-as-metaphor bit, and, like Ellis, she overconceptualizes everything.

L.A. Weekly

10/29/2002 by Ella Taylor

At once a sharp satire and an earnest study in the deadly consequences of moral vacancy.

San Francisco Chronicle

6/18/2002 by Edward Guthmann

Funny-one-minute, horrifying-the-next film.

Globe and Mail

3/19/2002 by Rick Groen

A well-crafted yet essentially innocuous period piece.

Rolling Stone

5/10/2001 by Peter Travers

An uneven movie that nonetheless bristles with stinging wit and exerts a perverse fascination.

Atlanta Journal-Constitution

3/21/2001 by Steve Murray

A visually chilly but often very funny satire of American greed and conspicuous consumption.

Mr. Showbiz

1/1/2000 by Michael Atkinson

The film's details are spot-on, its tone ludicrously ironic.

San Jose Mercury News

1/1/2000 by Glenn Lovell

Much of American Psycho feels like déjà vu.

Los Angeles Times

1/1/2000 by Kenneth Turan

Stillborn, pointless piece of work.

Seattle Times

1/1/2000 by John Hartl

Just doesn't make the case that this book was worth filming.

ReelViews

1/1/2000 by James Berardinelli

It represents one of the most daring, inventive, and invigorating movies to reach the screen during the dreary first half of 2000.

Chicago Sun-Times

1/1/2000 by Roger Ebert

Christian Bale is heroic in the way he allows the character to leap joyfully into despicability; there is no instinct for self-preservation here, and that is one mark of a good actor.
No one's rated or reviewed this product yet.