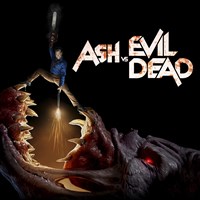 The wickedly gore-filled series stars Bruce Campbell as Ash Williams, the chainsaw-wielding antihero tasked with saving the world from evil; Lucy Lawless as Ruby, the unpredictable foe and occasional ally who has strong ties to the origin of the "Necronomicon"; Ray Santiago as Pablo Simon Bolivar, Ash's loyal sidekick and eternal optimist; and Dana DeLorenzo, who returns as Kelly Maxwell, orphaned in Season One and ready to kick some evil ass. The upcoming season also finds Ash discovering...
Available on
Xbox One
HoloLens
PC
Mobile device
Xbox 360
Description
ASH VS EVIL DEAD is the long-awaited follow-up to the classic horror film franchise THE EVIL DEAD from original filmmakers Sam Raimi, Rob Tapert, and Bruce Campbell and Craig DiGregorio. Campbell reprises his role as Ash, the stock boy, aging lothario and chainsaw-handed monster hunter who has spent the last 30 years avoiding responsibility, maturity and the terrors of the Evil Dead. When a Deadite plague threatens to destroy all of mankind, Ash is finally forced to face his demons –personal and literal. Destiny, it turns out, has no plans to release the unlikely hero from its "Evil" grip.
Episodes
Family
Season 3, Episode 1 TV-MA CC HD CC SD
Ash has gone from zero to hero in Elk Grove! With evil defeated and humanity saved, there was only one thing left to do: open a hardware store. His peace is short lived when evil returns with a new target close to his heart.
Booth Three
Season 3, Episode 2 TV-MA CC HD CC SD
Ruby gives birth to a new form of evil and disguises herself to form a bond with Brandy. Kelly returns with a friend who is leading the search for The Prophesized One to defeat The Dark Ones once and for all, while Ash realizes evil is out to get his daughter.
Apparently Dead
Season 3, Episode 3 TV-MA CC HD CC SD
Ruby reveals herself to Ash as she tries to strengthen her bond with Brandy to defeat The Prophesized One. Meanwhile, Pablo and Dalton continue to spar, unsure of one another.
Unfinished Business
Season 3, Episode 4 TV-MA CC HD CC SD
Brock warns Ash of an otherworldly hurricane brewing. Ash and Pablo make a discovery at the hardware store. Kelly and Brandy face a familiar foe.
Baby Proof
Season 3, Episode 5 TV-MA CC HD CC SD
Ruby's house of horrors reveals her master plan as well as a little bundle of joy that terrorizes Ash. Pablo's Brujo ties bring him back to the path he needs to take to reveal his true destiny in the battle against evil.
Tales from the Rift
Season 3, Episode 6 TV-MA CC HD CC SD
Ash's bond with his daughter strengthens as more Knights of Sumeria join Pablo and him to defeat evil. Kelly decides to go after Ruby herself while Ash and team, along with the knights enter the rift and face a battle of their own.
Twist and Shout
Season 3, Episode 7 TV-MA CC HD CC SD
Ruby's latest creation is her most diabolical plan yet to turn Brandy against her father. Pablo suspects something isn't quite right with Kelly when she meets him and Ash at the school. Chaos ensues when evil shows up at the school dance.
Rifting Apart
Season 3, Episode 8 TV-MA CC HD CC SD
Ash and Pablo realize the rift in the cellar is the key to saving humanity, and devise a plan to save the ones they love.
Judgement Day
Season 3, Episode 9 TV-MA CC HD CC SD
Pablo's role as Brujo Especiale has him straddle the worlds of good and evil to keep the rift open for Ash to save Brandy and Kelly. Ruby and Kaya faceoff with The Dark Ones.
The Mettle of Man
Season 3, Episode 10 TV-MA CC HD CC SD
The Ghostbeaters are put to the test to defeat a global demon infestation whose epicenter is Elk Grove. Ash, Pablo, Kelly and Brandy gear up for battle one last time to save the world!
Extra: Ash vs. Evil Dead- Season 3 Trailer
Ash vs. Evil Dead- Season 3 Trailer
Season 3, Extra TV-MA CC HD CC SD
Chainsaw-wielding Ash fights to save the world from evil with Pablo and Kelly, and unexpectedly makes a shocking discovery.
Additional information
Age rating
Duration
10 episodes (4 h 38 min)
Duration
10 episodes (4 h 38 min)
| | |
| --- | --- |
| Windows | Windows 8, Windows 8.1, Windows 10 or later |
| Xbox | Xbox 360, Xbox One, Xbox One S, Xbox One X |
| Mobile | Windows Phone 8, Windows Phone 8.1, Windows 10 or later |
Ratings and reviews
Thanks. Your review will post soon.
There was an error posting your review. Please try again later.
---
All user reviews
Filter by:
Sort by:
AMAZING!!!!!!!!!!!!!!!!!!!!!😆
I'm a big classic horror/slasher fan and this series is an amazing spin off of the original movie
13 out of 21 people found this helpful.
Thank you for your feedback.
Sorry, something went wrong. Please try again.
Portions of content provided by Tivo Corporation - © 2019 Tivo Corporation