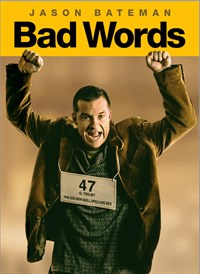 Jason Bateman directs and stars in this outrageously funny comedy about a 40-year-old who finds a loophole in the rules of a national spelling bee and decides to enter.
Once you select Rent you'll have 14 days to start watching the movie and 24 hours to finish it.
Available on
Xbox One
HoloLens
PC
Mobile device
Xbox 360
Description
Jason Bateman makes his feature directorial debut with the subversive comedy, Bad Words. Bateman stars as Guy Trilby, a 40-year-old who finds a loophole in the rules of The Golden Quill national spelling bee and decides to cause trouble by hijacking the competition. Contest officials, outraged parents, and overly ambitious 8th graders are no match for Guy, as he ruthlessly crushes their dreams of victory and fame. As a reporter (Kathryn Hahn) attempts to discover his true motivation, Guy finds himself forging an unlikely alliance with a competitor: awkward 10-year-old Chaitanya (Rohan Chand), who is completely unfazed by Guy's take-no-prisoners approach to life. Critics rave, Bad Words is "the funniest, smartest, most entertaining comedy in a long time!" (Pete Hammond, Movieline)
Additional information
Age rating
Size
5.3 GB (1080p HD)
2.51 GB (720p HD)
1.88 GB (SD)
Size
5.3 GB (1080p HD)
2.51 GB (720p HD)
1.88 GB (SD)
| | |
| --- | --- |
| Windows | Windows 8, Windows 8.1, Windows 10 or later |
| Xbox | Xbox 360, Xbox One, Xbox One S, Xbox One X |
| Mobile | Windows Phone 8, Windows Phone 8.1, Windows 10 or later |

Tomatometer®
Audience
Grantland

4/3/2014 by Wesley Morris

---

I didn't like anything about the movie before discovering what Guy is up to. I actively hated it after I figured out what was actually going on.

Globe and Mail

3/28/2014 by Robert Everett-Green

---

The laughs in this film are all mean-spirited or just frat-boy gross.

Toronto Star

3/27/2014 by Peter Howell

---

Almost unrelenting in its takedown both of an American institution and the country's obsession with victories big and small, Bad Words is more misanthropic fantasy than satiric fiction.

Chicago Reader

3/27/2014 by J. R. Jones

---

Trashy, ribald laughs in the Bad Santa vein, this marks Bateman's directorial debut; it's not much to look at, but at least he has the nerve to push the insolence, profanity, and brutal insult humor to its absolute limits.

Newsday

3/23/2014 by Rafer Guzman

---

In his directorial debut, Bateman casts himself as a foul-mouthed, racist jerk. It's a stretch for the nice-guy actor, but the role doesn't suit him.

Minneapolis Star Tribune

3/21/2014 by Colin Covert

---

While Bad Words is only sporadically funny, Bateman throws himself into the role without shame or ego. The film is also his directing debut, and a very capable one.

Detroit News

3/21/2014 by Tom Long

---

This is twisted, funny stuff.

Philadelphia Inquirer

3/21/2014 by David Hiltbrand

---

Go see Bad Words for its breathtakingly wicked setup. Just be aware the spell wears off.

San Francisco Chronicle

3/20/2014 by Mick LaSalle

---

At heart, Bad Words is a nice little concoction about a fellow walking around with a deep emotional wound, who heals it, not by confronting the source of his troubles, but by healing a similar wound in someone else.

ReelViews

3/20/2014 by James Berardinelli

---

The film's problem is that, despite obvious aspirations to be more than just a profane joke factory, it never fulfills its dramatic ambitions.

Boston Globe

3/20/2014 by Peter Keough

---

It's nasty enough, but it isn't so much funny as it is pathological.

Washington Post

3/20/2014 by Stephanie Merry

---

Bateman, who's so often the put-upon straight man, really stretches himself here. His deadpan delivery works just as well in the role of a wicked antihero as it does when he plays Michael Bluth in "Arrested Development."

St. Louis Post-Dispatch

3/20/2014 by Joe Williams

---

Bateman is already a star pupil of comedy, and he could earn an honor's diploma in filmmaking if he learns to spell singularity.

Arizona Republic

3/20/2014 by Bill Goodykoontz

---

What makes the comedy work is that Bateman doesn't relent. Guy is, simply, a loathsome person.

Seattle Times

3/20/2014 by Moira MacDonald

---

It's over long before it's over, by the time you start wishing that a few of the dogs from "Best in Show" would show up; a one-note comedy, pounded with a hammer and left flat.

Christian Science Monitor

3/14/2014 by Peter Rainer

---

Directed by Bateman in his first solo effort and written by Andrew Dodge, the film is an irreverant jape with its fair share of standout comic performances.

RogerEbert.com

3/14/2014 by Christy Lemire

---

Once we understand what's driving Guy, the revelation is airless: It feels like too little, too late. Now we're supposed to care about whether he has feelings?

New York Magazine/Vulture

3/14/2014 by Bilge Ebiri

---

The film is at its best when it's hovering aimlessly without any apparent purpose in the world of this embittered, misanthropic little man.

Newark Star-Ledger

3/14/2014 by Stephen Whitty

---

"Bad Words" serves, at least, as proof that Bateman can do a variety of parts, and direct a smart economical comedy - and if Hollywood is as smart and economical, it will give him the chance again.

New York Times

3/13/2014 by Manohla Dargis

---

The performances are funny, appealing and, in the case of Allison Janney, as a spelling bee official, wonderful.
No one's rated or reviewed this product yet.
Portions of content provided by Tivo Corporation - © 2019 Tivo Corporation