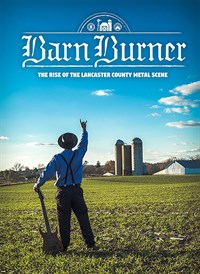 Barn Burner: The Rise of the Lancaster County Metal Scene
In the middle of Pennsylvania's "Amish Country," a burgeoning metal music scene takes root.
Once you select Rent you'll have 14 days to start watching the movie and 48 hours to finish it.
Barn Burner: The Rise of the Lancaster County Metal Scene
Available on
Xbox One
HoloLens
PC
Mobile device
Xbox 360
Description
Some of the most prominent metal bands playing today started practicing in barns in Lancaster County, Pennsylvania. But Lancaster is still known more for horses and buggies than its music scene. From the mid-2000s onward, an underground metal (and metalcore) scene in Lancaster grew from a DIY effort to a creative movement that established a unique sound and internationally acclaimed artists like August Burns Red (twice Grammy nominated), This Or The Apocalypse, Texas In July, and more. These beloved bands describe their upbringing in rural Lancaster and how it influenced them to seek out a new sense of belonging in music. Mirroring the work ethic exhibited by their families and community members, bands booked their own shows, printed their own flyers, and built their own equipment. As the scene grew, it found support from unlikely places, like deeply invested parents and local churches, which further helped launch Lancaster to a household name in metalcore. Barn Burner is more than just an inside look at how Amish Country became a hotbed of heavy music. It is a story about coming of age in the midst of clashing cultures, and will connect with anyone who has found a home in music.
Additional information
Size
4.39 GB (1080p HD)
2.26 GB (720p HD)
1.22 GB (SD)
Size
4.39 GB (1080p HD)
2.26 GB (720p HD)
1.22 GB (SD)
| | |
| --- | --- |
| Windows | Windows 8, Windows 8.1, Windows 10 or later |
| Xbox | Xbox 360, Xbox One, Xbox One S, Xbox One X |
| Mobile | Windows Phone 8, Windows Phone 8.1, Windows 10 or later |
Portions of content provided by Tivo Corporation - © 2019 Tivo Corporation