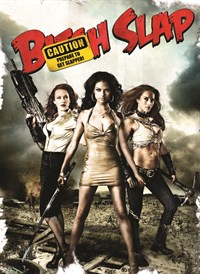 Tomatometer®
Audience
Village Voice

1/8/2010 by Ernest Hardy

The latest proof that calculated camp in the form of homage is nearly impossible to pull off.

Los Angeles Times

1/7/2010 by Michael Ordoña

The target audience must be that awfully precise niche that never tires of women punching each other.

Hollywood Reporter

1/6/2010 by Kirk Honeycutt

Over-the-top -- and ultimately tiresome -- female mud-wrestling, kick-boxing and cat fights in a parody of old exploitation movies.

Variety

9/22/2009 by Joe Leydon

Overblown and underwhelming.

ColeSmithey.com

7/26/2017 by Cole Smithey

For all of its potentially 3D-appropriate use of flying objects and big boobies, "Bitch Slap" doesn't hold a candle to Russ Meyer's truly transgressive "Faster, Pussycat! Kill! Kill!" - an obvious inspiration for this gutty little action film.

Movie Talk

8/1/2012 by Jason Best

Jacobson and Gruendemann appear determined to put the grind into grindhouse. And not in a good way. Everything goes on so long, including an excessively protracted catfight, that the viewer will be crying for mercy before the characters do.

7M Pictures

7/22/2012 by Kevin Carr

It's an homage to the exploitation genre that doesn't pay full homage to the exploitation genre.

Movies.com

4/4/2011 by Dave White

Just go watch Death Proof again instead.

The Skinny

4/8/2010 by Scott McKellar

By far the best elements are the regular flashbacks, which showcase the crazy comic book vibe at its best and have some truly spectacular Charlie's Angels-style moments.

Cinema Crazed

4/3/2010 by Felix Vasquez Jr.

More suitable for background noise on a late night than an actual big event you can gather with your friends to watch...

Slant Magazine

1/10/2010 by Matthew Connolly

If the film's half-baked salaciousness feels merely risible, its slapdash screenplay and cheapo look make it something that its generic forbearers rarely were: boring.

Cinematical

1/9/2010 by William Goss

Like an issue of Maxim that flips its own pages, but keeps stopping to read the articles.

Can Magazine

1/9/2010 by Fred Topel

It twists and twists and twists past the point of reason and logic. Best of all, it doesn't care. It just keeps going.

FEARnet

1/8/2010 by Scott Weinberg

Overstays its welcome, but offers some broad fun and some fun broads.

Horror.com

1/7/2010 by Staci Layne Wilson

Hurt me some more.

BrianOrndorf.com

1/7/2010 by Brian Orndorf

All the revealing costumes, Penthouse Letter structure, and girl nation rumbling can't cover the fact that Bitch Slap is an awesome idea handed the least effective execution possible.

ComingSoon.net

1/5/2010 by Edward Douglas

In any other world, this would be getting a DVD or Syfy-only release, and Jacobson's talents would be better utilized directing Playboy Channel interstitials.
No one's rated or reviewed this product yet.