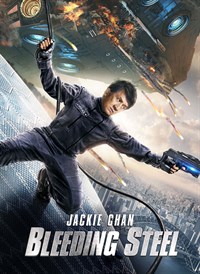 In this fantastical action film, martial arts legend Jackie Chan stars as a police inspector tracking down a deranged villain who is out to kidnap his daughter.
Once you select Rent you'll have 14 days to start watching the movie and 48 hours to finish it.
Available on
Xbox One
HoloLens
PC
Mobile device
Xbox 360
Description
In an action-packed drama reminiscent of '80s techno-sci-fi thrillers, Jackie Chan stars as Lin, a police inspector in modern Hong Kong. While tracking down a deranged, mecha-enhanced villain, Lin discovers that a geneticist's lost bio-chemical invention has been surgically implanted into his missing daughter. With the help of a young hacker, Lin connects the dots between the device that haunts his daughter, his enemy's sinister army, and a strange cultural phenomenon called "Bleeding Steel."
Additional information
Age rating
Genres
Action/Adventure
Thriller/Mystery
Genres
Action/Adventure
Thriller/Mystery
Size
6.07 GB (1080p HD)
3.29 GB (720p HD)
1.83 GB (SD)
Size
6.07 GB (1080p HD)
3.29 GB (720p HD)
1.83 GB (SD)
| | |
| --- | --- |
| Windows | Windows 8, Windows 8.1, Windows 10 or later |
| Xbox | Xbox 360, Xbox One, Xbox One S, Xbox One X |
| Mobile | Windows Phone 8, Windows Phone 8.1, Windows 10 or later |

Tomatometer®
Audience
RogerEbert.com

7/6/2018 by Simon Abrams

---

The plot-light nature of Bleeding Steel wouldn't be so vexing if the film's tone and story didn't seemingly shift at random.

New York Times

7/5/2018 by Glenn Kenny

---

At 64, Mr. Chan is still the most talented and witty athlete in cinema.

Variety

1/1/2018 by Maggie Lee

---

Features all the zesty fights, slick effects and goofy slapstick one expects from a Jackie Chan family movie ... though the film's corny cyberpunk pastiche appeals exclusively to kids.

Hollywood Reporter

12/26/2017 by Clarence Tsui

---

Bleeding Steel is all about old-school thrills, and Zhang has delivered a wide range of them, from cafeteria catfights to expansive pyrotechnics - with not just one but two crotch-kicking gags thrown in for good measure.

easternKicks.com

10/31/2018 by Harris Dang

---

Jackie Chan is credited as "Excetutive Producer" [sic] in the opening credits. That pretty much tells you the amount of effort that went into this film, because Bleeding Steel is one of the worst films in Jackie Chan's career.

Spectrum Culture

8/27/2018 by Pat Padua

---

With cartoonish villains who seem to have wandered in from a rogue superhero movie, the mixed milieus of police drama, sci-fi actioner, father-daughter relationship movie and special effects showcase don't remotely come together.

Film Inquiry

8/17/2018 by Frank H. Wu

---

Maybe this title is to Jackie Chan as Moonraker was to James Bond, an extravagant attempt to imitate the box office fare of its time, which only highlighted the throwback quality of the central character. It's a "jump the shark" moment.

The Young Folks

7/10/2018 by Brian Thompson

---

Through its bonkers setup alone, Bleeding Steel feels like a cocaine-fueled fever dream.

Film School Rejects

7/8/2018 by Rob Hunter

---

While Bleeding Steel is most certainly inane and incomprehensible it's also... a little bit fun?

Cinemalogue

7/6/2018 by Todd Jorgenson

---

There are some inspired visual moments, including a vintage Chan fight sequence. Still, he deserves better material than this.

Mark Reviews Movies

7/6/2018 by Mark Dujsik

---

There was a time when Jackie Chan would dazzle us with ... lightning-fast fights and death-defying stunts. The climax of Bleeding Steel features Chan shooting a laser blaster...

Slant Magazine

6/28/2018 by A.J. Serrano

---

A film so brazen in its desire to reach a wide audience that it plays like a compilation of disparate action set pieces, each shamelessly stolen from successful Hollywood franchises.

Movie Nation

6/28/2018 by Roger Moore

---

Bled out...a tepid imitation of Chan's signature stunts and fights

Filmfare

2/2/2018 by Rachit Gupta

---

The thrills and the CGI look half-baked. It's not what you expect from a Jackie Chan movie.

The Age (Australia)

1/13/2018 by Jake Wilson

---

In theory, this is some kind of tongue-in-cheek science fiction action caper, but Zhang proceeds as if his goal were to keep us in the dark for as long as possible as to what the story is about.

Screen-Space

1/4/2018 by Simon Foster

---

[It] is impossible to gauge what type of audience, other than the die-hard Chan completists, will feel wholly satisfied by this schizophrenic genre hodgepodge.

South China Morning Post

12/27/2017 by James Marsh

---

The quality of Chan's recent films has varied wildly, and with this one he hits a new low in terms of the nonsensical garbage he is willing to put his name to.

The Straits Times (Singapore)

12/20/2017 by Yip Wai Yee

---

It is not just the premise of the story that fails to convince. The design of the film, from the costumes to the set, is so nonsensical that it becomes unintentionally funny.
No one's rated or reviewed this product yet.
Portions of content provided by Tivo Corporation - © 2019 Tivo Corporation