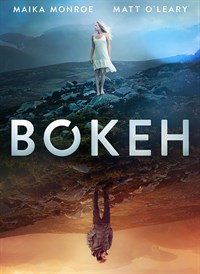 Tomatometer®
Audience
Observer

3/29/2017 by Rex Reed

Beautiful and challenging, Bokeh has a pristine look and chilling feel of its own that contributes enormously to the mood and tone of the whole film.

RogerEbert.com

3/24/2017 by Nick Allen

Only worthwhile storytellers could take an elevator pitch like this one (the last two people on Earth) and produce long-lasting curiosity about its inherent beauty and horror.

Variety

3/24/2017 by Dennis Harvey

We're stuck for eternity with two perfectly decent people who, it seems, just aren't very interesting company. Not even for each other.

Tribune News Service

3/23/2017 by Katie Walsh

What sets "Bokeh" apart among the "low-key apocalypse" cinematic subgenre is not what happens, but what doesn't happen. It's the unknowing that is their undoing. The result is a subtle but ultimately profound humanist message.

Los Angeles Times

3/23/2017 by Sheri Linden

As the story gives way to repetitious sightseeing sequences and melodrama, it proves less than fully satisfying. But there's plenty to admire along the way ...

Entertainment Weekly

3/23/2017 by Chris Nashawaty

Unimaginative and unconvincing ...

Village Voice

3/21/2017 by Alan Scherstuhl

[A] subtly comic drama, shot with a gliding camera and a pleasing minimalist style ...

Next Projection

10/16/2018 by Derek Deskins

This issue of character development is largely what holds the film back. Without understanding what makes this couple tick, we are left voyeurs in a world that we cannot understand.

Film School Rejects

4/6/2017 by Rob Hunter

As devastatingly beautiful as it is beautifully devastating.

Flick Filosopher

3/30/2017 by MaryAnn Johanson

A pretty blur of an apocalypse happens to pretty, blurry people in this dull SF drama. This end of the world brought to you by the Reykjavik Tourist Board.

Mark Leeper's Reviews

3/26/2017 by Mark R. Leeper

This is a film for the patient and that patience goes largely unrewarded.

Eye for Film

3/24/2017 by Jennie Kermode

It's not really the subject that's important, but how we interpret what's going on in the background.

Cinemalogue

3/24/2017 by Todd Jorgenson

... never generates much narrative momentum or profound social commentary, although it takes full advantage of the gorgeous Icelandic locations.

Film Journal International

3/24/2017 by Edward Douglas

A contemplative Malick-like drama that leans heavily on its Iceland locations and the genuine chemistry between its two young actors.

Film Inquiry

3/23/2017 by Lee Ashworth

Bokeh's depth of field itself is ultimately too shallow, the focus not quite tight enough.

Aisle Seat

3/23/2017 by Mike McGranaghan

The half-baked philosophizing and predictable outcome make the picture an endurance test for your patience.

The Verge

3/23/2017 by Tasha Robinson

Small-budget indie films often have to limit their scope and their sights, but Bokeh takes in enough of the protagonists' deserted, lonely world to feel completely convincing.

Blu-ray.com

3/23/2017 by Brian Orndorf

Strives to be meditative, examining art, life, and the pain of living, but it never achieve its full dramatic wingspan, wasting its potential on actors incapable of keeping their characters compelling.

The Film Stage

3/22/2017 by Mike Mazzanti

Like its titular aesthetic definition, Bokeh remains completely out of focus both narratively and thematically.

Movie Nation

3/21/2017 by Roger Moore

Generic last-couple-on-Earth sci-fi that's too empty to offer anything deep or fun.
No one's rated or reviewed this product yet.