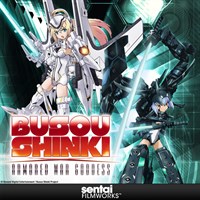 Description
Some guys wait their entire lives to meet the girl of their dreams, but Rihito already lives with four dream girls who are eager to please him. That's because they're Shinki: 6-inch high, customizable androids. Don't let their tiny size fool you. These little ladies have full-sized intelligence and emotions, and since each one would prefer to be Rihito's favorite, there's sure to be friction! Get ready for sparks to fly as four battery powered princesses take charge of Rihito's world in Busou Shinki!
Episodes
1. I Found Something Important
2. The Secret Ingredient Is the Scent of Gunpowder
4. It's a race! Once Around the Park
6. Attention, Please! Our Plane is Bound to Hell!
7. The Visitor Comes with the Sound of Rain
9. Lene's Underground Wars of the Empire
10. A Christmas Song for You
11. We'll Settle It Tonight! Who Is the Strongest Shiki!?
Additional information
Duration
12 episodes (4 h 56 min)