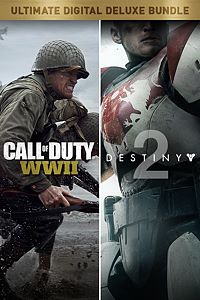 Description
Elevate your Xbox experience with the Ultimate Shooter Bundle! Get the Call of Duty: WWII Digital Deluxe Edition AND Destiny 2 Digital Deluxe Edition in one bundle. Includes: - Call of Duty: WWII - Call of Duty: WWII Season Pass* - Carentan Bonus Map - 1,100 Call of Duty: WWII Points** - Multiplayer Upgrade (Weapon Unlock + 2XP)*** - Zombies Camo**** - Divisions Pack - Destiny 2 - Expansion Pass - Legendary Sword - Legendary Player Emote - Cabal Empire Themed Emblem - Coldheart Trace Rifle - Kill-Tracker Ghost - Salute Emote Call of Duty® returns to its roots with Call of Duty®: WWII - a breathtaking experience that redefines World War II for a new gaming generation. Destiny 2 is an action shooter that takes you on an epic journey across the solar system. In the cinematic campaign, you'll enter a world filled with compelling characters and fight to take back our home. *Season Pass purchasers receive 2018 Call of Duty: WWII Season Pass content. Season Pass content is not final, is subject to change, and may not include all downloadable content available for the game. Season Pass content may not be available in all countries, and pricing and release dates may vary by platform. Season Pass content should be downloaded from the in-game store do not purchase separately, or you will be charged again. Season Pass content may be sold separately. Game required, sold separately. **Platform and region availability may vary and are subject to change. ***Weapon unlock and 2XP usable in multiplayer only. 2XP limited to 4 hours of gameplay. ****Certain restrcitions apply. For use in Zombies mode only. © 2017 Activision Publishing, Inc. ACTIVISION, CALL OF DUTY, and CALL OF DUTY WWII are trademarks of Activision Publishing, Inc. All other trademarks and trade names are the properties of their respective owners. © 2017 Bungie, Inc. All rights reserved. Destiny, the Destiny Logo, Bungie and the Bungie Logo are among the trademarks of Bungie, Inc. Published and distributed by Activision. Activision is a registered trademark of Activision Publishing, Inc.
Additional information
Approximate size
102.03 GB
Age rating
For ages 17 and up
Installation
Install on your home Xbox One console plus have access when you're connected to your Microsoft account.
Report this product
Sign in to report this game to Microsoft