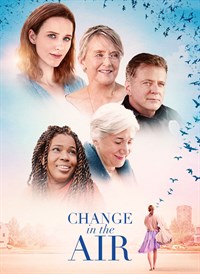 Tomatometer®
Audience
Los Angeles Times

10/19/2018 by Kimber Myers

The gentle drama "Change in the Air" is buoyed by its sweet spirit and a strong cast, but it ultimately tries too hard to win our affections.

Hollywood Reporter

10/18/2018 by Frank Scheck

Change in the Air proves frustrating and dull for most of its running time, displaying unwarranted confidence in its ability to cast a spell.

Variety

10/16/2018 by Courtney Howard

The film has about as much resonance as a "Coexist" bumper sticker. Without a compelling, coherent narrative drive, the film's own spirit sags.

WORLD

11/16/2018 by Laura Finch

Unfortunately for viewers, Brosnahan gets to show more range in a single scene of House of Cards than she does in this entire movie.

Common Sense Media

10/19/2018 by Tara McNamara

Quirky drama about secrets leaves viewers in the dark.

Film Journal International

10/18/2018 by Stephen Whitty

A quiet drama about an inspiring visitor never takes wing.

Movie Nation

10/16/2018 by Roger Moore

Airless, action-free and dull quasi-faith-based dramedy.

Blu-ray.com

10/16/2018 by Brian Orndorf

It doesn't come together with enough urgency, but there's a push to understand characters at their most vulnerable, which is always welcome.

Shockya.com

10/14/2018 by Harvey S. Karten

There is no change that I could see.
No one's rated or reviewed this product yet.