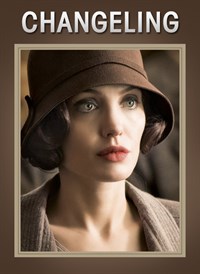 Clint Eastwood directs Oscar® winner Angelina Jolie and Oscar® nominee John Malkovich in an unforgettable true story about a mother's missing son and her relentless quest for the truth.
Once you select Rent you'll have 14 days to start watching the movie and 24 hours to finish it.
Available on
Xbox One
HoloLens
PC
Mobile device
Xbox 360
Description
Clint Eastwood directs Oscar® winner Angelina Jolie and Oscar® nominee John Malkovich in a riveting and unforgettable true story. Los Angeles, 1928. When single mother Christine Collins (Jolie) leaves for work, her son vanishes without a trace. Five months later, the police reunite mother and son; but he isn't her boy. Driven by one woman's relentless quest for the truth, the case exposes a world of corruption, captivates the public and changes LA forever. This emotionally gripping story illustrates the profound power of a mother's love in "a mesmerizing film that burns in the memory" (Peter Travers, Rolling Stone).
Additional information
Age rating
Genres
Drama
Thriller/Mystery
Size
8.44 GB (1080p HD)
3.99 GB (720p HD)
3 GB (SD)
Size
8.44 GB (1080p HD)
3.99 GB (720p HD)
3 GB (SD)
| | |
| --- | --- |
| Windows | Windows 8, Windows 8.1, Windows 10 or later |
| Xbox | Xbox 360, Xbox One, Xbox One S, Xbox One X |
| Mobile | Windows Phone 8, Windows Phone 8.1, Windows 10 or later |

Tomatometer®
Audience
82 %
226,998 user reviews
Time Out

11/28/2008 by Wally Hammond

---

It's a tough movie but also rewarding and inspiring: something of a quiet triumph.

Film.com

11/10/2008 by Jonathan F. Richards

---

Eastwood, who has made fine movies in recent years, has got hold of a humdinger of a story. But he's too detached and lazy here.

ReelViews

10/31/2008 by James Berardinelli

---

Clint Eastwood's Changeling falls into a common trap: by trying to do too much, it accomplishes too little.

Newark Star-Ledger

10/31/2008 by Stephen Whitty

---

This is one movie where the star really is the star. And delivers a performance of which any actress can be truly proud.

Miami Herald

10/31/2008 by Rene Rodriguez

---

If Changeling lacks the knockout power of, say, Million Dollar Baby, it proves that Eastwood continues to seek out stories that take him places he hasn't been before -- and the audience along with him.

Detroit News

10/31/2008 by Adam Graham

---

It is a misfire, a silly and borderline absurd story that cannot excuse its twists and turns with the simple 'a true story' declaration that opens the film.

Film.com

10/30/2008 by Eric D. Snider

---

How could a story as genuinely bizarre as this one seem so generic and rambling on the screen?

Minneapolis Star Tribune

10/30/2008 by Colin Covert

---

Changeling is a brilliant, demanding film, a mystery-cum-character study about which we finally have to make up our own minds.

Philadelphia Inquirer

10/30/2008 by Carrie Rickey

---

With its many tonal shifts and dangling subplots, J. Michael Straczynski's sprawling script is a problem. Jolie's performance is another.

Orlando Sentinel

10/30/2008 by Roger Moore

---

If the film is too long and a little unwieldy in its later acts, the consummate craftsman in Eastwood glosses over that with detail and righteous rage.

Arizona Republic

10/30/2008 by Bill Goodykoontz

---

Changeling is a fine-enough movie. It's just that it's aware of the fact, and neither Eastwood nor Jolie ever lets the audience forget it.

Christian Science Monitor

10/28/2008 by Peter Rainer

---

This hothouse Changeling is freeze-dried.

New York Times

10/24/2008 by A.O. Scott

---

When it works best, Changeling is a feverish and bluntly effective parable of wronged innocence.

Chicago Tribune

10/24/2008 by Michael Phillips

---

Eastwood, working from a script by J. Michael Straczynski, tells a painful true story neatly and well, with one foot in rousing Hollywood melodrama and the other in a story that resists tidy resolution.

Wall Street Journal

10/24/2008 by Joe Morgenstern

---

Connections are missing or scrambled between the filmmaking and the period, between the co-stars, Angelina Jolie and John Malkovich, and between the characters they play.

USA Today

10/24/2008 by Claudia Puig

---

While the neo-Gothic tale is inherently intriguing, the film should inspire strong emotion, but deliberate pacing and a contained sense of melodrama make it a surprisingly passive experience.

Toronto Star

10/24/2008 by Peter Howell

---

Changeling reminds us that the veneer of civilization is thin and made of quicksilver.

Los Angeles Times

10/24/2008 by Kenneth Turan

---

To see this film is to understand both how fragile and how essential our hopes for decency and truth are in a world that must be made to care about either one.

The New Republic

10/24/2008 by Christopher Orr

---

[I]t is not enough to declare such improbable material historically accurate and leave it at that. It is Eastwood's burden to make it feel true... and in this, Changeling is a singular failure.

Seattle Times

10/24/2008 by Moira MacDonald

---

The line between drama and melodrama is a fine one, and Clint Eastwood steps on both sides of it in his elegantly sad new film, Changeling.
Portions of content provided by Tivo Corporation - © 2019 Tivo Corporation