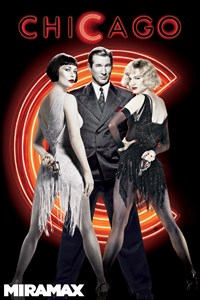 Tomatometer®
Audience
83 %
439,276 user reviews
Minneapolis Star Tribune

2/25/2015 by Colin Covert

Chicago is sexy, sordid and sensational, the Windy City's biggest hit since the St. Valentine's Day Massacre.

AV Club

2/12/2014 by Keith Phipps

As sentimental as a plywood casket, Chicago has satirical bite and a mean wit that somehow never obscures its characters' unlikely likability.

Associated Press

2/12/2014 by Ben Nuckols

With performers as good as these and the freshness of Bill Condon's screenplay and Marshall's direction, there's really very little wrong with Chicago. What it lacks is something intangible -- heat.

Wall Street Journal

2/12/2014 by Joe Morgenstern

Rob Marshall's screen version of the near-venerable show looks great, in its razzly-dazzly neo-Fosse way, and sounds good, especially when Renee Zellweger's gorgeous Roxie Hart is singing her heart out.

The New Republic

2/24/2013 by Stanley Kauffmann

The net effect of the incessant dazzle is depressing.

New York Magazine/Vulture

2/24/2013 by Peter Rainer

The song-and-dance numbers are calisthenic but unspectacular, with too much fast cutting, and the tone throughout is harmlessly facetious.

New Yorker

2/24/2013 by Anthony Lane

The film has punch, but it never really conveys the delicious, redeeming sense that life can be lived on the hoof.

TIME Magazine

2/24/2013 by Richard Corliss

Chicago has so much razzle-dazzle that viewers may end up both raised and dazed. It's remorselessly inventive, trying anything fast and sassy to keep you watching.

Chicago Reader

2/6/2007 by Jonathan Rosenbaum

This Oscar-laden movie rendition, directed by Rob Marshall, suffers from the kind of ants-in-your-pants MTV editing that prevents you from simply watching and enjoying the musical numbers.

Time Out

6/24/2006 by Geoff Andrew

Marshall betrays the dancing by never letting us see it properly.

New York Daily News

4/22/2003 by Jack Mathews

For sheer, audacious musical entertainment it tops last year's Moulin Rouge, and ranks among the greatest adapted Broadway shows ever.

Boston Globe

2/14/2003 by Wesley Morris

This film adaptation, written by Bill Condon, is somewhat kinder and gentler than the stage versions that preceded it.

Observer

1/16/2003 by Andrew Sarris

Chicago is, in many ways, an admirable achievement.

Newsweek

1/14/2003 by David Ansen

Renee Zellweger and Catherine Zeta-Jones put on quite a show in Rob Marshall's dazzling cinematic rethinking of the 1975 Kander and Ebb musical directed by Bob Fosse.

Rolling Stone

1/9/2003 by Peter Travers

Leggy Zeta-Jones is so hot in the 'All That Jazz' number, she's flammable. And Zellweger defines delicious.

Orlando Sentinel

1/3/2003 by Roger Moore

It prances. It struts. It kicks up its heels. It bumps and grinds and gyrates and works up a sweat and has a cigarette afterwards.

Entertainment Weekly

1/3/2003 by Owen Gleiberman

By the end of Chicago, just about everyone in it has razzle-dazzled someone, and so has the movie, which leaves you thrilled at how good it feels to see life, death, and girl power turned, once again, into a cabaret.

Slate

12/29/2002 by David Edelstein

Rob Marshall's film of Chicago isn't just the most explosively entertaining movie musical in a couple of decades. It's going to be the most influential.

Houston Chronicle

12/28/2002 by Bruce Westbrook

With few respites, Marshall keeps the energy humming, and his edits, unlike those in Moulin Rouge, are crisp and purposeful without overdoing it.
No one's rated or reviewed this product yet.