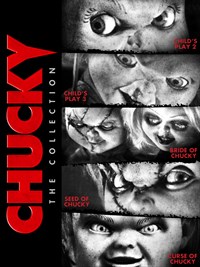 Original price was $64.95, current price $29.99
Original price was $64.95, current price $29.99

Tomatometer®
Audience
47 %
125,585 user reviews
Time Out

2/9/2006

Only in the highly orchestrated, surprisingly gory climax, wherein Chucky's plastic form takes on the sins of the flesh, is there a spark of originality.

Washington Post

1/1/2000 by Richard Harrington

An inevitable sequel that's not as good as its progenitor, but better than most movies with the numbers 2 through 8 in their titles.

Antagony & Ecstasy

7/9/2011 by Tim Brayton

In embracing its identity as a tacky horror movie, and totally scrapping the murder mystery angle that made the original so wobbly, it manages to be a darn sight more fun to watch.

Georgia Straight

7/6/2010 by Steve Newton

Too much effort went towards giving Chucky life in this film, while other things like the writing, acting, and direction were left for dead.

TheFilmFile.com

10/15/2008 by Dustin Putman

The mystique might have faded, but the psychopathic Chucky is still an apt threat.

Reel Film Reviews

1/3/2008 by David Nusair

...a surprisingly effective sequel that's sure to please fans of this ongoing series.

sbs.is

4/16/2005 by Stefan Birgir Stefansson

maybe i'm crazy but i liked it alot

Film Threat

7/11/2003 by Clint Morris

A Hip, equally satisfying sequel...Chucky's badder than ever!

eFilmCritic.com

7/26/2002 by Scott Weinberg

Entirely standard sequel fare. Fans of the first one will be entertained on an infrequent basis.
No one's rated or reviewed this product yet.