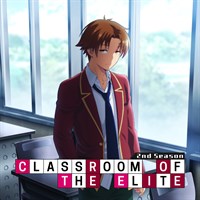 Episodes
1. Remember to keep a clear head in difficult times.
2. There are two main human sins from which all the others derive: impatience and indolence.
3. The greatest souls are capable of the greatest vices as well as of the greatest virtues.
4. The material has to be created.
5. Every failure is a step to success.
6. Adversity is the first path to truth.
7. To doubt everything or to believe everything are two equally convenient solutions; both dispense with the necessity of reflection.
8. The wound is at her heart.
9. If you make a mistake and do not correct it, this is called a mistake.
10. People, often deceived by an illusive good, desire their own ruin.
11. A man who cannot command himself will always be a slave.
12. Force without wisdom falls of its own weight.
13. The worst enemy you can meet will always be yourself.
Additional information
Networks
Crunchyroll, LLC
Age rating
Genres
Animation
Anime
Comedy
Duration
13 episodes (5 h 10 min)