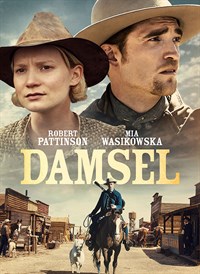 A businessman travels West to join his fiancée in the mountains.
Once you select Rent you'll have 14 days to start watching the movie and 48 hours to finish it.
Available on
Xbox One
HoloLens
PC
Mobile device
Xbox 360
Description
Samuel Alabaster (Robert Pattinson), an affluent pioneer, ventures across the American frontier to marry the love of his life, Penelope (Mia Wasikowska). As his group traverses the west, the once-simple journey grows treacherous, blurring the lines between hero, villain and damsel.
Additional information
Directors
David Zellner
Nathan Zellner
Directors
David Zellner
Nathan Zellner
Age rating
Size
6.45 GB (1080p HD)
3.38 GB (720p HD)
1.9 GB (SD)
Size
6.45 GB (1080p HD)
3.38 GB (720p HD)
1.9 GB (SD)
| | |
| --- | --- |
| Windows | Windows 8, Windows 8.1, Windows 10 or later |
| Xbox | Xbox 360, Xbox One, Xbox One S, Xbox One X |
| Mobile | Windows Phone 8, Windows Phone 8.1, Windows 10 or later |

Tomatometer®
Audience
Newsweek

8/7/2018 by Andrew Whalen

---

Damsel spends its second half literally wandering in the woods, with no clear destination or objective in mind.

The Atlantic

7/8/2018 by David Sims

---

As an indie film with a clever gimmick, it's worth seeing, though it never quite sustains the sweeping feel of its first two scenes.

Minneapolis Star Tribune

7/5/2018 by Colin Covert

---

Sometimes you encounter the kind of movie that makes you feel the day can't get any better than this.

Arizona Republic

7/5/2018 by Bill Goodykoontz

---

"Damsel" takes most of the elements you've ever seen in a Western and tweaks some, twists others and comes up with something unusual and mostly satisfying.

Washington Post

6/28/2018 by Ann Hornaday

---

"Damsel" owes just as much to the absurdist tone of the Coen brothers, possessing the same visual and verbal japery and, occasionally, absurdism for its own wearyingly ridiculous sake.

Philadelphia Inquirer

6/28/2018 by Gary Thompson

---

Damsel is designed to be a deliberately out-of-joint comedy about a woman forced to endure an exasperating ordeal. After two hours, I could relate.

Chicago Tribune

6/28/2018 by Michael Phillips

---

Like everything else attractive to the eye in "Damsel," this image of happiness is a cruel illusion. It's also an unilluminating one.

Boston Globe

6/28/2018 by Ty Burr

---

The frontier as a symbol not of manifest destiny but of man's idiocy? There's an interesting movie in that. "Damsel" gets about halfway there.

Chicago Sun-Times

6/27/2018 by Richard Roeper

---

Damsel is set some 150 years ago, but it's a timely social commentary about certain gender-based stereotypes that still exist in the movies. Mia Wasikowska kills it as Penelope.

RogerEbert.com

6/24/2018 by Christy Lemire

---

Damsel is a sly feminist manifesto disguised as a shaggy, amiable hangout movie.

Rolling Stone

6/24/2018 by Peter Travers

---

This warped, WTF western from the Zellner brothers gives Rob Pattinson a chance to shine. In a Hollywood of formulaic hack jobs, the Zellners know how to keep you guessing. Don't knock it. It's a gift.

NPR

6/22/2018 by Mark Jenkins

---

Damsel goes for rueful smiles, not uproarious laughs.

TheWrap

6/21/2018 by William Bibbiani

---

When the film segues into a literal song and dance, it feels like we really are watching a new sort of vision, even though Damsel takes a while to reveal its true angle.

Los Angeles Times

6/21/2018 by Justin Chang

---

"Damsel" is a deadpan art-western prank, a sly fusion of classical technique and postmodern sensibility.

Tribune News Service

6/21/2018 by Katie Walsh

---

A film that's intellectually stimulating and beautiful to look at, but a bit too arch to truly fall in love with.

New York Times

6/21/2018 by Jeannette Catsoulis

---

A movie that turns the classic western into something wackily eccentric and entertainingly original.

Village Voice

6/20/2018 by Simon Abrams

---

Pattinson and Wasikowska deserve better material than the Zellners' head-scratchingly lazy jokes.

Associated Press

6/20/2018 by Jake Coyle

---

While the movie isn't quite as clever as it thinks it is, the Zellners have a sweet, likable sense of humor tinged with tragedy. And they remain filmmakers to watch.

Entertainment Weekly

6/18/2018 by Dana Schwartz

---

The film is unpredictable and bizarre, stunningly beautiful and weird in the best ways...

New Yorker

6/18/2018 by Richard Brody

---

Though methodically conceived and occasionally tense, it's slight and sluggish.
No one's rated or reviewed this product yet.
Portions of content provided by Tivo Corporation - © 2019 Tivo Corporation