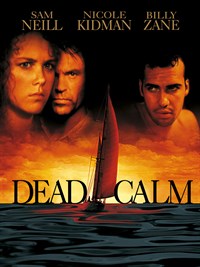 This edge of your seat thriller follows an Australian couple (Nicole Kidman, Sam Neill), whose yacht cruise is violently interrupted by the lone survivor of a ship whose crew has perished.
Once you select Rent you'll have 14 days to start watching the movie and 24 hours to finish it.
Available on
Xbox One
HoloLens
PC
Mobile device
Xbox 360
Description
Co-produced by George Miller ("Mad Max" series, "Witches of Eastwick"), this "edge of your seat" suspense thriller tells the story of an Australian couple (Sam Neill, "Jurassic Park," and Golden Globe and Oscar-winner Nicole Kidman ("Batman Forever"), whose private yacht cruise is violently interrupted by the appearance of a mysterious lone survivor (Billy Zane, "Titanic") from a ship whose entire crew has perished. Newsday calls this "a beautifully made movie in any genre...it is well paced, suspenseful, brilliantly acted and directed with flair," and Variety calls it "a nail-biting suspense pic, handsomely produced and inventively directed."
Additional information
Age rating
Genres
Drama
Thriller/Mystery
| | |
| --- | --- |
| Windows | Windows 8, Windows 8.1, Windows 10 or later |
| Xbox | Xbox 360, Xbox One, Xbox One S, Xbox One X |
| Mobile | Windows Phone 8, Windows Phone 8.1, Windows 10 or later |
Portions of content provided by Tivo Corporation - © 2020 Tivo Corporation