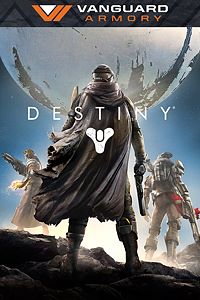 Description
Purchase Destiny before September 16, 2014 for early access to Vanguard weapons, gear, and a player emblem. Once purchase is complete, download this game by selecting the "Manage" button on the product details page on your console. Destiny is a next generation first person shooter featuring an unprecedented combination of cinematic storytelling, cooperative, competitive, and public gameplay, and personal activities that are woven into an expansive, persistent online world. Venture out alone or join up with friends. The choice is yours. Personalize and upgrade every aspect of how you look and fight with a nearly limitless combination of armor, weapons, and visual customizations. Take your upgraded character into every mode, including campaign, cooperative, social, public, and competitive multiplayer. Explore the ancient ruins of our solar system, from the red dunes of Mars to the lush jungles of Venus. Earn and wield incredible weapons and powers to defeat your enemies. Reclaim all that we have lost. Become Legend.
Additional information
Age rating
For ages 13 and up
Installation
Install on your home Xbox One console plus have access when you're connected to your Microsoft account.
Report this product
Sign in to report this game to Microsoft