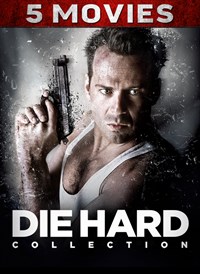 Die Hard Ultimate Collection
Bruce Willis stars in this iconic, action-packed series as tough-as-nails New York cop John McClane, who outwits and out-toughs thugs and terrorists across the globe.
$74.95
Original price was $74.95, current price $42.99
$42.99
Die Hard Ultimate Collection
$74.95
Original price was $74.95, current price $42.99
$42.99
| | |
| --- | --- |
| Windows | Windows 8, Windows 8.1, Windows 10 or later |
| Xbox | Xbox 360, Xbox One, Xbox One S, Xbox One X |
| Mobile | Windows Phone 8, Windows Phone 8.1, Windows 10 or later |

Tomatometer®
Audience
94 %
572,921 user reviews
Boston Globe

4/27/2018 by Jay Carr

---

Die Hard is film's equivalent of a terrorist attack on your senses, but Willis' intensity and presence push it into guilty pleasure territory.

New York Daily News

7/28/2015 by Chris Chase

---

There are good performances from everyone in this long, often funny, very violent but exciting melodrama.

Orlando Sentinel

7/9/2013 by Jay Boyar

---

Die Hard is an action picture with a capital A. In fact, you might as well go ahead and capitalize the whole darn word.

Los Angeles Times

7/9/2013 by Kevin Thomas

---

As a grand flourish of cinematic technique, it is awesome; as a human drama, it is disgusting and silly, a mindless depiction of carnage on an epic scale.

Chicago Tribune

7/9/2013 by Dave Kehr

---

McTiernan, who directed last summer's Predator, composes the action cleanly and logically, making good use of Jackson DeGovia's elaborate post-modernist set-the building becomes something of a character in itself.

TIME Magazine

12/5/2008 by Richard Schickel

---

In the first half of Director John McTiernan's movie, Willis wears an undershirt. In the second half he gets rid of it. And that's pretty much it for his performance.

Variety

11/27/2007 by Variety Staff

---

Die Hard is as high tech, rock hard and souped up as an action film can be.

Chicago Reader

11/27/2007 by Jonathan Rosenbaum

---

A serviceable if rather overextended and overblown adventure thriller.

Time Out

1/26/2006 by Nigel Floyd

---

A hi-tech thriller with a human heart.

New York Times

5/20/2003 by Caryn James

---

The scenes move with such relentless energy and smashing special-effects extravagance that Die Hard turns out to be everything action-genre fans, and Bruce Willis's relieved investors, might have hoped for.

Washington Post

1/1/2000 by Hal Hinson

---

It gets your heart pounding, then makes you hate yourself for it.

Chicago Sun-Times

1/1/2000 by Roger Ebert

---

Inappropriate and wrongheaded interruptions reveal the fragile nature of the plot and prevent it from working.

ReelViews

1/1/2000 by James Berardinelli

---

For what it is, this is the top model -- flash, bang, and witty one-liners all included.

Washington Post

1/1/2000 by Desson Thomson

---

It's good, dumb fun.

Movies in Focus

11/2/2018 by Niall Browne

---

Die Hard is a great example of the Hollywood studio system getting moviemaking right - the film is a perfect storm of story and talent coming together.

FanboyNation.com

10/30/2018 by Sean Mulvihill

---

Die Hard still feels as fresh and thrilling as the first time it screened.

Herald Sun (Australia)

7/12/2018 by Leigh Paatsch

---

From the superb pacing through to the sarcastically sinister villainy of Alan Rickman, this remains a crucial template for the modern action film.

eFilmCritic.com

7/10/2018 by Rob Gonsalves

---

It's as though the filmmakers approached each scene by asking themselves how entertaining they could make it.

Starburst

5/22/2018 by Andrew Pollard

---

One of the very best action pictures of all time... Yippe-ki-yay indeed.

Pittsburgh Post-Gazette

1/3/2018 by Marylynn Uricchio

---

What sets 'Die Hard' apart from most action movies is the depth of characterization. [Detective John] McClane is not a macho toy with a bullet-proof body. He is a thinking, feeling man who can't believe he's doing most of what he does.
Ratings and reviews
Thanks. Your review will post soon.
There was an error posting your review. Please try again later.
---
All user reviews
Filter by:
Sort by:
Thank you for your feedback.
Sorry, something went wrong. Please try again.
Portions of content provided by Tivo Corporation - © 2019 Tivo Corporation