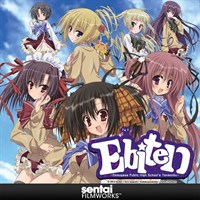 Available on
Xbox One
HoloLens
PC
Mobile device
Xbox 360
Description
Take a group of fan girls, toss out all social rules, and mix them in a basement, and what do you get? Besides a recipe for disaster, you get the Astronomy Club, where the wall between reality and fantasy shatters once every five minutes! As if things aren't wild enough, throw in a manga fanatic who always ends up in her underwear, a maid on a mission, a ruthless arch-enemy, and a CAT as the faculty adviser! One thing's certain: the Student Council will most definitely NOT approve of what happens when the Insane-O-Meter redlines in EBITEN!
Episodes
1. The Legend of the Struggling Astronomy Club
2. Crybaby Hakata's Transformation of Splendor
3. Put Love Into It, Not Konpeito
5. This is the Agonizing Astronomy Club of Miracles! A Maid has Landed!
6. Aim for the Stars! The Girl That Dreams of Love
8. The Agonizing Astronomy Club's Special Endless Herb Pheremone
9. The Astronomy Club's Great Victory! Ready, Go Towards Tomorrow!!
Additional information
Duration
10 episodes (4 h 22 min)