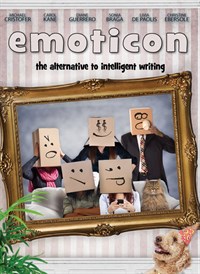 Tomatometer®
Audience
New York Times

5/29/2014 by Neil Genzlinger

"Emoticon ;)" is stuffed with complexities. So why does it feel as facile as that irksome title?

Los Angeles Times

5/29/2014 by Inkoo Kang

In wildly disparate plot lines, Guerrero and Chandler easily command sympathy, but De Paolis doesn't let the sibling characters roam very far.

Hollywood Reporter

5/28/2014 by Frank Scheck

Livia De Paolis's too cutely titled debut feature wears its themes a little too baldly on its sleeve, but this modest effort about a non-nuclear family dealing with various interpersonal crises boasts some genuinely effective, understated moments.

Village Voice

5/27/2014 by Chris Packham

A grown-up's weird idea of how kids behave.

Bust Magazine

8/11/2017 by Kelly Maxwell

Audiences go in expecting something cute and fun, but instead, [Emoticon ;)] is introspective and almost self-deprecating.

Common Sense Media

5/30/2014 by Amanda Nojadera

Human connections trump technology in social media drama.

Shockya.com

6/12/2013 by Brent Simon

Professionally mounted and attractively lensed, this indie production is a fresh, off-the-beaten-path conceit that gets mileage from its willingness to examine notions of non-nuclear family and changing identity.