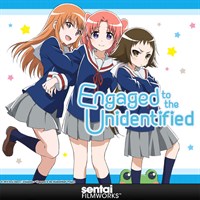 Description
Kobeni is your typical, completely normal high school girl. She plays sports and lives with her freewheeling mother and her older, eccentric sister, Benio. Due to an accident when she was young, Kobeni can't remember her childhood at all. Will she be able to remember her past? Are the people who want to become a part of her future really even people? Find out in Engaged to the Unidentified!
Episodes
1. It's Important to Start Off on the Right Foot
2. It's Not Bad Having a Loli Sister-in-Law
3. I Can Feel the Love Comedy Waves
4. That's Just Her Being a Pervert
5. This Woman Has Given Birth?
6. I Know! I'll Fill It with Sister-in-Law
7. That's One Thing, This Is Another
8. Only a Little Sister Can Soothe Sadness over a Little Sister
9. How Humiliating, I'm So Embarrassed
10. I Looked Up the Term "Time of Dere"
11. I'm Enjoying My Handkerchief
12. You Understand? I Understand
Additional information
Duration
12 episodes (4 h 57 min)