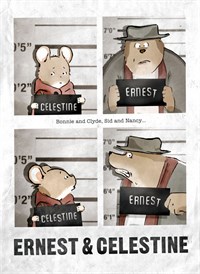 Tomatometer®
Audience
St. Louis Post-Dispatch

4/10/2014 by Joe Williams

Ernest learns to share, Celestine learns to a paint - and the audience learns that in a Disney-dominated marketplace, kids are still free to choose their own mini mouse.

Minneapolis Star Tribune

4/3/2014 by Colin Covert

The unlikely cross-species friendship of Celestine the mouse and Ernest the bear teaches a gentle lesson about irrational intolerance in this French animated charmer.

Arizona Republic

4/3/2014 by Bill Goodykoontz

"Ernest & Celestine" draws on plenty of classics, animated and otherwise, for inspiration, but the film manages to be delightful on its own offbeat terms.

Philadelphia Inquirer

3/28/2014 by Steven Rea

Ernest & Celestine is a genuine charmer for kids, and for the parental units tagging alongside.

USA Today

3/27/2014 by Claudia Puig

A sweet-natured tale of an unlikely friendship between a burly bear and a plucky mouse. It's also decidedly offbeat with an emphasis on animal dentistry.

Seattle Times

3/27/2014 by Tom Keogh

A joyous rediscovery of hand-drawn animation, all witty and expressive lines, spare backgrounds and gorgeous, watery hues.

Boston Globe

3/27/2014 by Ty Burr

It moves with the rhythms and emotions of classic kids' literature, possesses elegance and belly laughs in equal measure, and is almost magically beautiful to look at. And, like bears, it has bite.

San Francisco Chronicle

3/27/2014 by Peter Hartlaub

The message is simple, the ending earthshaking and a few scenes border on overly precious. But as the stakes are raised for the pair, a surprising depth of character emerges.

Newsday

3/20/2014 by Rafer Guzman

Delicate animation and a charming score may be why this Belgian film earned an Oscar nomination. Its story, however, makes no sense whatsoever.

New York Magazine/Vulture

3/14/2014 by Bilge Ebiri

It has things to say about the world, but it does so gracefully, without hitting you over the head with them.

Christian Science Monitor

3/14/2014 by Peter Rainer

The enchanting French-Belgian animated feature Ernest & Celestine is so liltingly sweet and graceful that, a day or two after I saw it, it seemed almost as if I had dreamed it.

RogerEbert.com

3/14/2014 by Glenn Kenny

Every frame is suffused with a fireplace kind of warmth that, for me at least, cast an immediate spell that didn't let up.

Wall Street Journal

3/13/2014 by Joe Morgenstern

The movie advances the art of animation without seeming to try.

New York Times

3/13/2014 by Manohla Dargis

There isn't much of a moral to this story, but it does put a premium on individuality and pluck. Mostly, "Ernest & Celestine" is an ode to the happiness that comes from being with those different from us.

New York Post

3/13/2014 by Sara Stewart

There's a truly original beauty in "Ernest & Celestine," from its delicate, pastel-hued animation to the look and sound of its inhabitants ...

Associated Press

3/12/2014 by Jake Coyle

Not just a positively charming movie, but an ode to the tactile pleasures of handcrafted artistry.

Chicago Reader

3/7/2014 by Ben Sachs

The images have a soft, inviting quality that befits the storybook narrative.

Orange County Register

3/6/2014 by Michael Sragow

A delicate portrait of a mouse as an artist meets a scruffy portrait of a bear as an all-out entertainer in this witty and imaginative cartoon feature.

TheWrap

2/28/2014 by Alonso Duralde

Plays out like the kind of picture book that you love as a child and still treasure as an adult. It's a subtle creation, offering the perfect mix of whimsy for kids and wit for grown-ups.

Los Angeles Times

2/28/2014 by Betsy Sharkey

Marked as outsiders by their respective societies, an unlikely friendship is forged, an ill-tempered uproar unleashed, and a delightful movie is the result.
No one's rated or reviewed this product yet.