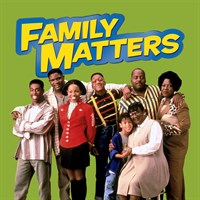 Available on
Xbox One
HoloLens
PC
Mobile device
Xbox 360
Description
What matters most? Family, of course. Especially if you are a member of the close-knit Winslow brood where the only things that really count are love, laughter and Family Matters.
Episodes
1. The Mama Who Came to Dinner
24. Torn Between Two Lovers
31. Dedicated To The One I Love
35. Have Yourself A Merry Winslow Christmas
46. The Good, The Bad And The Urkel
47. I Should Have Done Something
64. Food, Lies And Videotape
65. My Broken-Hearted Valentine
68. Stop In The Name Of Love
69. The Urkel Who Came To Dinner
78. No. One With A Bullet
79. Whose Kid Is It, Anyway?
80. An Officer And A Waldo
83. It's A Mad, Mad, MadHouse
84. It's Beginning To Look A Lot Like Urkel
86. The Way The Ball Bounces
87. A Thought In The Dark
93. Walk On The Wild Side
98. It Didn't Happen One Night
100. A Matter Of Principle
101. Money Out The Window