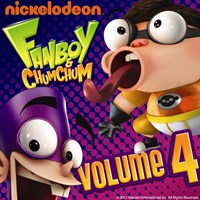 Available on
Xbox One
HoloLens
PC
Mobile device
Xbox 360
Description
They're fearless! They're adventurous! They're wearing underwear on the outside of their costumes! They're Fanboy & Chum Chum, two endlessly energetic "super fans" of all things sci-fi and fantasy. Get ready to join their awesomely absurd adventures!
Episodes
1. Frosty Mart Dream Vacation/Field Trip of Horrors
2. Funny Face/Put That Cookie Down!
3. Bubble Trouble/Lucky Chums
4. Hex Games/Speed Eraser
5. Freezy Freaks/Microphonies
6. Two Tickets to Paladise/The Winners
10. Dental Illness/Champ of Chomp
11. Tooth or Scare/The Big Bopper
12. Igloo of Irritation/HypnotOZed
Additional information
Genres
Animation
Comedy
Family/Children
Duration
13 episodes (5 h 8 min)