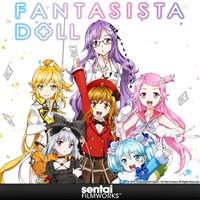 Available on
Xbox One
HoloLens
PC
Mobile device
Xbox 360
Description
Uzume Uno comes into the possession of a mysterious deck of cards which can summon five magical girls known as Fantasista Dolls, which she will have to yield to protect the Earth from calamity.
Episodes
1. Uzume Uzu Uzu - A Shadow Draws Near?
2. Sasara Sara Sara - You're my master?
3. The Expedient Errand - Madeleine's Devotion
4. Jimejime Shimeji - Counterattack by the Pathetic Prince?
5. Work Work Working - Katia's Beginning?
6. Akari Karikari: Restrictions and Devotion?
7. A Heart Tart? All Together As One
8. Onion On On - A Fair of Culture?
9. Kagami Kami Kami? Confusing Feelings
10. Poked Poker: The Director's Challenge?
11. Komachi Machi Machi? Promised Devotion
12. Wishes Upbeat, Everyone's Shining
Additional information
Duration
12 episodes (4 h 53 min)