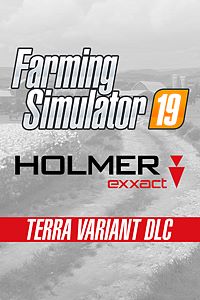 Description
Expand your gaming experience with the new official extension for Farming Simulator 19! This DLC contains 2 new vehicles and 6 attachments from HOLMER, Annaburger and Zunhammer: • HOLMER TV 435 – System Vehicle & Zunhammer TV 16m3 Slurry Tanker • HOLMER TV 585 – System Vehicle • Annaburger TV - Manure Spreader • HOLMER GB 25 – Grain Auger Wagon • HOLMER MB 35 – Beet Auger Wagon • Zunhammer TV 21m3– Slurry Tanker • Zunhammer GlideFix 15 – Slurry Booms • Zunhammer Vibro – Slurry Injector Once downloaded, the additional content will be available through the in-game shop. Be sure to have sufficient in-game currency to buy them!
Additional information
Approximate size
314.54 MB
In-app purchases
Price range: Free to $49.99
Installation
Install on your home Xbox One console plus have access when you're connected to your Microsoft account.
Report this product
Sign in to report this product to Microsoft